Coton de Tulear Blog
The Coton de Tulear Blog is the latest news on this site about this wonderful rare dog breed.
It...
lets you know whenever any new web pages appear on Coton-de-Tulear-Care.com
helps you learn from and connect with other Coton owners
gives you the opportunity to tell the world about your Coton dog.
Would You Like To Be Part Of This Blog?
Become part of the Coton Dog Blog! Simply tell us about your Coton de Tulear by clicking here! Your story becomes part of this blog (which shows the site's most recent pages) and a permanent part of this web site for others to read!
Enjoy... can't wait to hear you brag about your dog!
Boo the Agility Star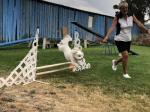 This is Boo from Osoyoos BC Canada…he is now 8 years old and still going strong in agility. He so loves it and is a star. He began at 6 months of age
Copyright© 2008- All Rights Reserved