Small Dog Travel Guide
Tips for traveling with your Coton de Tulear
or any  small dogs

This small dog travel guide is essential to ensure a safe, fun, and memorable trip with your Coton (or any dog).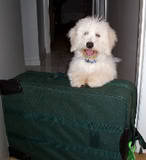 Take me with you
Traveling with your dog can be a great experience if you prepare well. Today there's really no reason taking your Coton de Tulear on a trip shouldn't be a fun and easy event.
Traveling with a small dog has some advantages. Obviously, they're much easier to transport. You can bring a small dog virtually anywhere these days.
Just be careful to take some safety precautions with your small dog when you travel. Don't let him roam freely in a moving car and make sure you have good identification on your dog in case you're separated for any reason (microchips and ID tags).
There are more and more dog friendly hotels and destinations, more information resources, and lots of travel accessories to help make the trip comfortable for you and your buddy.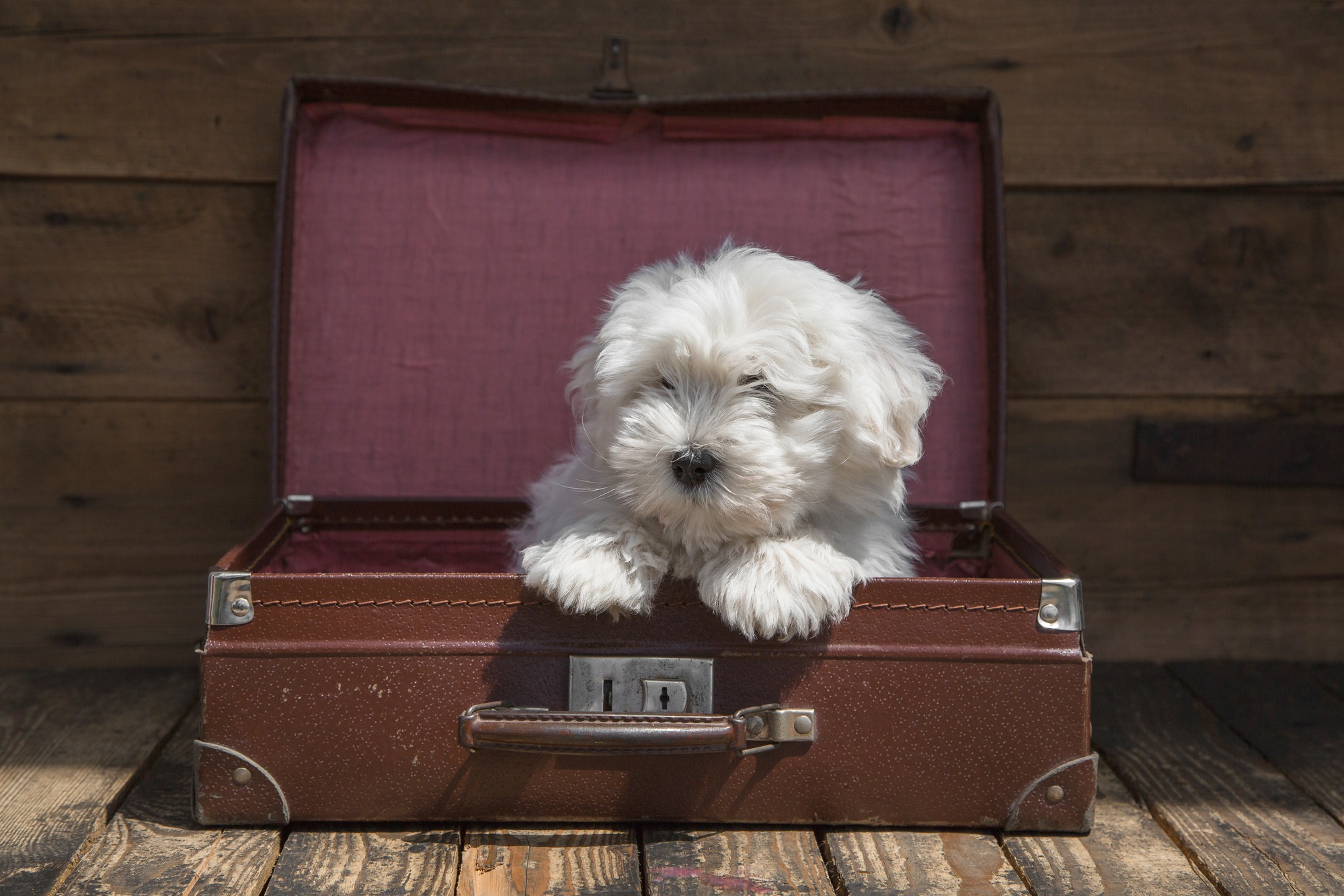 coton de tulear puppy in suitcase
Being prepared is the most important thing you can do for a happy journey. Start preparing well in advance of your trip and before you leave home, make sure all vaccinations are up to date, all prescriptions  are filled, and identification is arranged and up to date. You should make a list of all the things you need to bring for your dog such as:
Dog food and treats
Any medications your dog takes
Collar and leash

Travel bed or crate
Dog carriers (make sure it meets guidelines if going by air)
Toys
Car safety items (seat belt, harness, seat cover, or carrier)
Wipes
Pet identification

Car organizer to access essentials during trip
Small Dog Travel Guide Resources

Travel Problem Solvers: Find the most popular solutions to all your travel needs.

PetsWelcome.com: Thousands of dog-friendly listings of hotels, resorts, hotels and campground.
PetTravel.com: Resource to find pet-friendly accommodations, airline policies, import rules, and forms required for international travel.

TripsWithPets.com: Another great resource for planning pet-friendly travel – find lodging and activities by state.
BringFido.com: You will find a comprehensive list of dog friendly businesses wherever your destination may be.


Dog Boarding and Kennels vs Local Pet Sitters: You can't always travel with your pets so it is so important to find the best care for them while you're away. Make sure you know what to look for when deciding on pet care when you can't be with them.

Dog Airline Travel: It's very important to do your research in advance for all the regulations and guidelines regarding airline travel. Each airline may have its own rules so it's crucial to be prepared before you travel.

Dog Car Travel: Have you ever met a dog who didn't like to go for a ride in the car? Make sure he's safe before you take your dog for a ride.
Home | Sitemap | About Me | Contact Me
| Privacy Policy | Disclosure




Copyright© 2008- All Rights Reserved