Coton de Tulear History
(sort of...)
Coton de Tulear history is spotty at best. As with any information on this rare breed, its origin is somewhat unclear. There are a number of interesting tales about how these dogs came to inhabit Madagascar several centuries ago but they are mostly unsubstantiated. So keep this in mind about the Coton de Tulear history on the below timeline:



15th or 16th Century – It is thought that the Coton de Tulear originated in the port city of Tulear in Madagascar (currently named Toliara). One account is that their ancestors (thought to be related to the Bichon family of dogs) were shipwrecked during storms steered by Spanish and Portuguese sailors and they washed up in Tulear.


17th Century - France claimed Madagascar and these dogs became very popular with the new French aristocracy. It became illegal for commoners to own this rare breed and today they are known as the "Royal Dog of Madagascar".


1970-71 - The breed gained official recognition from the Fédération Cynologique Internationale (FCI) when they accepted them into their registry


1974 – The breed was honored on a postage stamp in Madagascar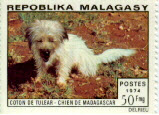 1974-The first Cotons came to America when Dr. Robert Jay Russell sent breeding stock over from Madagascar


1975- The first Cotons appeared in Europe


1976– The Coton de Tulear Club of America was formed by Dr. Jay Russell to maintain the original Malagasy breed standard, pedigrees, and registrations


1992– The Madagascan government imposed an export stop to prevent the threat of extinction of the breed


1994– Four Coton clubs were formed in the U.S.and Canada


2005– According to the CTCA, nearly 2,000 Cotons de Tulear produced by 80 breeders worldwide were registered by the CTCA (in contrast, more than 70,000 Cotons have been produced in Europe since 1977).


2010- The USACTC announced its intention to pursue AKC recognition of the Coton de Tuléar despite opposition from the American Coton Club and the Coton de Tulear Club of America because they feel it will negatively impact the overall health and well being of the breed.


2012 - A new AKC standard was established that distinguishes between the Madagascar Coton and the AKC French Eurocoton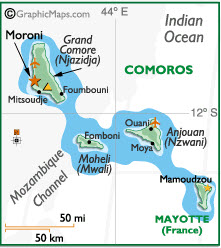 ---
---
Did you know?

The capital of Madagascar is Antananarivo


Madagascar is the 4th largest island after Greenland, New Guinea, & Bornea)


The population is 16,979,744


Malagasy and French are the official languages
---
---
Learn more about the breed standard here
Home | Sitemap | About Me | Contact Me
| Privacy Policy | Disclosure




Copyright© 2008- All Rights Reserved