Subscribe to the
Coton Connection Newsletter




Sign up to receive your Coton Connection Newsletter and 2 valuable e-books:
(It's all FREE!!)

Keep up to date on the latest information about this rare breed
Learn tips to help your dog stay healthy, happy, and well behaved
Join our Coton Meetup to find other Coton families where you live

Share experiences, stories, and photos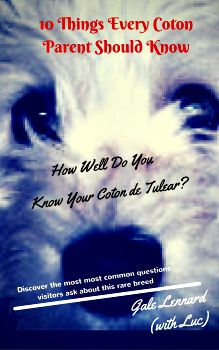 Sign up for the Newsletter below and you will also receive these 2 invaluable e-books:
10 Things Every Coton Parent Should Know
I've compiled the top 10 most asked questions about the Coton de Tulear. You will find answers to these questions and much more in this must-have booklet. And it's free when you subscribe to our Newsletter below.

Discover the 10 most asked questions from our visitors.

1.  How do I find a Coton de Tulear?
2.  What should I feed my dog?
3.  How can I get my finicky dog to eat?
4.  Can I leave my Coton alone?
5.  How do I stop my dog from barking?
6.  How do I help my dog overcome separation anxiety?
7.  What's the best way to house train my puppy?
8.  Should I get more than one Coton?
9.  How can I prevent or eliminate matting?
10.How can I prevent or eliminate tear stains?
And you will also receive

My Everyday Dog Training Tools - a resource guide by one of the most successful online dog trainers, Doggy Dan
Enjoy!
Sign Up below to receive your free Newsletter and e-book

Note:  You will also have access to previous newsletter issues after you sign up.
Home | Sitemap | About Me | Contact Me
| Privacy Policy | Disclosure




Copyright© 2008- All Rights Reserved