Meet the Coton de Tulear:
A rare dog who will steal your heart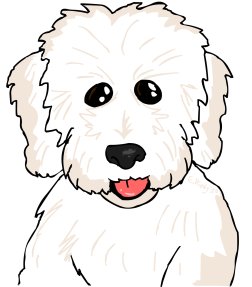 The Coton de Tulear is one of the most affectionate, gentle, playful, loyal, protective, fun-loving dogs you will ever meet. But you probably already know this since you are one of the very few fortunate people who know about this wonderful rare breed.
---
Join the Coton Community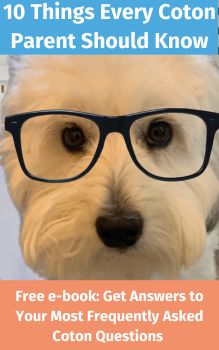 Join now and stay updated on all things Coton!
Sign up for Your Free Coton Connection Newsletter to get the latest news about the Coton de Tulear

**BONUS:  Get a Free copy of 10 Things Every Coton Parent Should Know. I've compiled the answers to the 10 most frequently asked questions about this amazing dog.
Enter Your Best E-Mail Below

---
Since the Coton de Tulear dog breed is still not widely known, getting information about these dogs can be difficult and a little challenging, which is why I decided to create this site. I wanted a place for Coton lovers to share their pride and passion for this breed with each other.

What's Next?

Use the navigation menus or the search bar to find something specific, or just browse the site. I suggest you start with the boxes below.

---
---

Coton de Tulear Care Mission:

Help you decide if the Coton de Tulear is right for you and your family. Choosing a dog is a big decision - is the Coton your dog?


Provide much needed resources for Coton parents who have been frustrated with the lack of information available about this rare dog. There's so much to learn about this breed.


Establish a community where visitors can share their love and knowledge of the breed with others. We can learn more about this lovable rare dog breed from each other.  Tell us about your dog!

This site is for everyone – I hope you will find the support you need whether your dog is a:
Purebred
Coton rescue of uncertain lineage
Show dog
Companion dog
Puppy or senior
Long hair or short hair
White or multi-colored
Well behaved therapy dog or behaviorally challenged
All Cotton dogs (as they are sometimes affectionately nicknamed) are unique and deserve to be loved and cared for regardless of their background, physical characteristics, genetics, or price tag. This is the place to learn about this incredible breed and share YOUR experiences.
Over the years, visitors to this site have generously contributed their knowledge, experiences, photos, and questions which have helped us all get a better understanding of the Coton de Tulear. But more than anything, our wonderful visitors have shared their genuine and unconditional love of this amazing breed.
---
Copyright© 2008- All Rights Reserved