Are dog kennels and boarding the right choice for your dog?
Do you know who's watching your Coton Dog?
Choosing between dog kennels and boarding or local pet sitting can be a difficult decision if you don't do your research.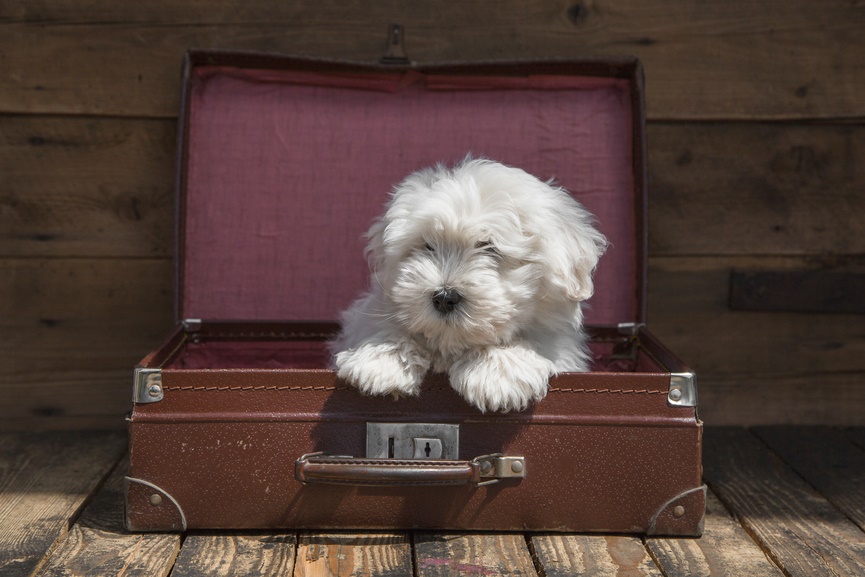 We've all been faced with the decision of what to do with our dogs when we have to travel without them. Often times we are fortunate enough to have caring responsible family and friends who will pet sit for you while you're gone. Or maybe you've always been able to travel with your dog. Unfortunately, this isn't always an option.
Recently I had to make this difficult decision. In the past I'd leave my dog Luc with family or friends when I had to go on a trip without him.
But this time I was faced with the dilemma of what to do when my family was not an option and I was going to be gone for a longer period of time than usual. I just didn't feel right boarding him longer than a few days.  Fortunately I found Care.com.
I never looked into this option before because I thought it would be unaffordable, but I was very wrong. It was actually less expensive for me to hire a local pet sitter than to board Luc with my Veterinarian like I've done in the past.
The whole process was very easy. I just submitted an online request for someone to care for Luc in their home and I quickly received over 25 responses from pet sitters in my neighborhood. Care.com provided background checks, credentials, and references for all the pet sitters. Then all I had to do was choose which sitters to interview and then meet with them in their home to check the environment Luc would be in while I was away.  There are similar type services that are equally as easy and safe such as dogvacay.com and rover.com.

Next time you're faced with this decision, here are some things to consider to make the choice easy and stress-free.
How to make the decision between dog kennels and boarding vs. local pet sitters:
Dog kennels and boarding - What to consider:
Does the kennel have enough caretakers to monitor all the dogs?
How much individual attention will your dog get?
What are their policies for handling emergency situations?
Do they have video cameras so you can check in via the web to monitor your dog?
Is the environment clean?
Will your dog be in a small kennel by himself or be in a group situation?
Will your dog be exposed to potential parasites or illnesses from the other pets in the kennel?
Will they allow you to inspect where your dog will be staying prior to boarding?
Professional local pet sitters - What to consider:
There are no shortages of pet sitters available these days. Whether you're looking for a dog sitter who will care for your dog in your home or their home, there are important questions you should ask:
Are they associated with any pet sitting organizations such as NAPPS (National Association of Professional Pet Sitters)?
Are they insured or bonded?
How experienced are they?
How much will it cost? Make sure you understand what services are covered.
What is their procedure if there is an emergency?
How much time will your dog be left alone?
Do they have transportation?
How many other animals will they be caring for?


If you've decided to go with a pet sitter instead of dog kennels and boarding facilities, then you have to decide whether you want the sitter to care for your dog in their home or in your own home.
There are pros and cons to both. Obviously your dog is more comfortable in his/her own territory, but you may have concerns about having a stranger live in your house.
It all comes down to what works best for your dog and your circumstances. The most important thing whether you choose dog kennels and boarding or local pet sitters, is to make a visit in person before making a decision. Sometimes things look great on paper but it's a different story in reality.
I interviewed several pet sitters whose background and credentials sounded perfect, but when Luc and I visited, it just didn't "feel right". Sometimes intuition is your best method of selecting a pet sitter.
When I found the right pet sitter for Luc it was very clear – both Luc and I felt very comfortable and I knew that I could go on vacation feeling confident that my dog was in great hands and that he'd be safe and well cared for in my absence.
Luc and I both had a great time on our separate vacations. I got emails and texts with updates on how he was doing during the time he was at the pet sitter. When I picked him up it was obvious that he was happy and having a good time.
If you do choose to go with local pet sitters, I highly recommend Care.com - I will definitely use their services again.
Copyright© 2008- All Rights Reserved