Safe Dog Toys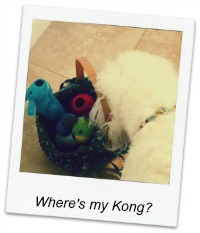 How to make play time a safe time
Safe dog toys are an essential part of having a happy and healthy dog. Dogs depend on us to make sure they are safe so here are some things to look for when selecting toys for your dog:


Potentially Unsafe Dog Toys:

Avoid toys that are too small for your dog that can potentially get lodged in his throat. Make sure you buy toys that are appropriate for your dog's size.
Discard any toys that have broken or dislodged pieces that your dog can swallow.
Avoid rawhide, ears, and hooves, especially if you're not there to monitor him. Dogs love rawhide and pigs ears, but they are often treated with toxic chemicals and can easily break into small sharp pieces that can cause gastrointestinal tract problems when swallowed. I know these seem like a great idea for dogs who love to chew, but there are better less hazardous alternatives. (See below recommendations)
Squeaky toys are very common but can cause choking hazards when the internal squeaker becomes separated. If your dog enjoys these kinds of toys just make sure to supervise.
Plush toys can be a problem for aggressive chewers when the stuffing comes out and can cause a choking hazard. Make sure you can wash these toys because they are a breeding ground for dirt and germs.
Rope toys can be dangerous once the rope begins to shred and your dog ingests it. So once again, just monitor the toy and discard when it becomes a safety issue.
Tennis balls are a fun way to interact with your dog, but aggressive chewers can wear their teeth on the abrasive material if they use it as a chew toy instead of a game of catch.
Dogs are funny; they can make a toy out of virtually anything including dirt, rocks or dirty underwear. It's our job to make sure they can't get into any household or outdoor items that could potentially harm them. One of the best ways to ensure dog safety is to remove any harmful items and replace them with fun and safe dog toys. Here are some recommendations.


Recommended Safe Dog Toys:
The best dog toys are those that are a match to your dog's personality. Is your dog a chewer? Does he get in trouble when he's bored? Does he miss you when you're gone?


Is your dog a chewer?
Toys for chewers should be made from safe materials and should keep your dog entertained and busy for a long time so he doesn't look for something else to chew like your shoes or eye glasses.
Very hard rubber toys, such as Nylabone and Kong products are made from very hard rubber and virtually hard to destroy. Kong products are a safe way to satisfy the toughest chewers. Kong is Luc's favorite, especially when I fill it with carrots or almond butter.


Does your dog get into trouble when he's bored or miss you when you're gone?
Interactive toys that keep your dog entertained and prevent boredom are great to keep separation anxiety at bay and will prevent boredom that can result in all kinds of misbehaving.


Safe Interactive Toys
Toys filled with healthy treats will keep your dog busy for hours. Your dog has to work at getting to the treats. They come in a variety of sizes so virtually all breeds can get the perfect toy for their size. Luc loves this kind of toy!
Puzzle games lets your dog move puzzle pieces to find hidden treats. These types of toys where your dog has to earn his treat is great for his confidence. You can find a wide variety of interactive dog toys at Amazon.

Need more ideas?  See what our visitors have shared about their Coton's favorite toys here.

---
Copyright© 2008- All Rights Reserved