Barking Problem
by Cecilia
(SAO PAULO,BRAZIL)
My Coton is very kind, loves people and other dogs. She is really adorable, but she barks a lot.


Tica is a six month female Coton and she barks a lot, mainly at home and at night. I'm retired, so she is never alone at home. When I have to leave home, my mother stays with her. I walk her daily in the morning and evening (almost one hour daily). I bought an anti-barking device named BARK OFF, but it didn't work.
Do you know any solution for barking problems? I'm really worried about this, because I live in an apartment and my neighbor hates dogs...
Thank you and regards!!!
Coton de Tulear Barking
I have a 6 year old Coton de Tulear that barks at the slightest thing. We have tried everything to no avail. Any suggestions??
Coton de Tulear barking and biting when excited
by Leila
(London, UK)
Hi - my Coton de Tulear puppy starts trying to bite and bark when he's excited and playing - any tips for stopping this without ruining his excitement?
thanks,
Leila
How can I stop neighbors dog from barking?
by Virginia
I've never had barking issues with my 3 year old Coton de Tulear, but I could sure use help to stop my neighbors dog from barking.

I work at home during the day and my neighbor's dog barks all day. My neighbors aren't home during the day so they probably don't know there's even a problem. How can I get the dog to stop barking?
Coton de Tulear barking at my children
by Jill
(Farmington, Minnesota)
Hello. Our family adopted a 10 month old, male, Coton de Tulear 5 weeks ago. We named him Dexter. He was raised by breeders (2 men) with lots of other dogs, cats and exposure to adults.

We are a family of 5 : me, my husband and 3 girls ages 10, 7, 5. We also have a wonderful 11-year old golden-mix, Katie. Dexter and Katie get along great, but the problem is with our children....

Dexter has bonded great with my husband and I, but not with the kids, yet. I'm hoping now that they are home for the summer we can make this happen.

Dexter is sweet, but shy, and has never nipped our kids or anyone. Rather, he does the "scooby-doo" with his feet to get away from them. He has even now started to jump out of their arms. If I or my husband hold him, he will let the girls pet him and may at times lets us transfer him to their arms. It bothers us that he hides under our tables to stay away from them or new people in the house. He can sometimes be coaxed out for treats from them, but is not wanting to be picked up by them.

Dexter will let my 10-year-old handle him, but always prefers to follow me. And that's upsetting to my daughter. He barks at my 5 year old a lot - I believe because she's loud and quick moving :) We correct him by saying "Eh, eh!" (firmly) then "You're okay..." (sweetly!)when he scrambles away or barks at them. We've even tried ignoring the behavior. We encourage the girls to give treats and lots of loving talk. What else could we be trying?

(My 10-year-old started taking Dexter to obedience training (beginner classes) along with my husband.)

Thanks for your help!



What can we do to stop dog barking?
Max barks constantly outside. He sits by the fence and waits for dogs to go by. We are on a corner lot and get a lot of people with dogs going by. What can we do to stop his barking?

Dog barking deterrent
by Janie
Will a dog barking deterrent work? I have a 16 month old Coton de Tulear who barks when anyone comes near the house. He barks like crazy and takes a long time to calm down so I was wondering if any of these dog barking deterrent products actually work.

Thanks so much for creating this site about this amazing dog. Luc is adorable!
Barking at other dog
by Amber
We have a new puppy who is 6 months old. We also have an older dog - around 5 years old, they get along very well.

However, whenever we take both of them to the beach to play ball in the water, the puppy does not leave the older dog alone, he jumps on him and constantly barks at him in the water. He seems to be obsessed with him when we are out of the house.

The older dog puts up with it but he can't have a relaxing swim with this going on. We have tried calling and putting him on the lead whenever he starts barking at the older dog but we don't seem to exist when he is in this mode.

Any help would be great!




Dog aggression. Barking at other dogs
by Iris Miller
(Bristol, CT)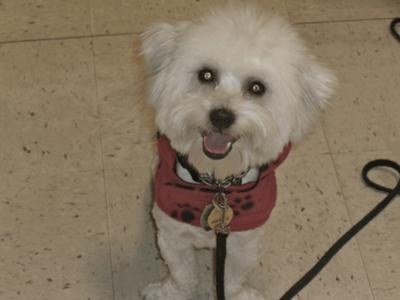 happy, happy, happy! Tuffy.
I noticed a lot of requests for help with barking and walks, so I copied this today from an email I got from AdoptaPet.com. It is lengthy but has some helpful suggestions for proper training.

----

Note from Gale: I've posted a link to the article instead of reprinting it because some authors don't appreciate having their content copied, so just in case, you can read the entire thing at:

AdoptaPet.comBlog

Thanks Iris - great article! Thanks for sharing

Join in and write your own page! It's easy to do. How? Simply click here to return to Dog Behavior Question.
How can I stop my dog barking at people?
by Emily
My Coton de Tulear is perfect in every way except when it comes to barking. Missy is 11 months old and she just won't stop barking when she's around people other than close family. This is causing some stress and embarrassment. Any suggestions would be greatly appreciated.


Barking excited Coton de Tulear Puppy
by Dawn
(CA)
Hello - Our normally pretty mellow 6 month old Coton de Tulear female has just started to bark at everything, and like crazy when she sees a person or other dog.

We socialized her pretty well the first 5 months but the last month we've had really bad weather & have been sick so we haven't taken her out much until the other day when I noticed this new behavior. We walked along and when she saw another couple walking on the other side of the street she just freaked out barking so loudly it was embarrassing and pulling toward them. They came over to us and once they started petting her she calmed down a little bit and at least stopped yelling. She was very wiggly & jumpy. She has always had trouble with her jumping on people when greeting them, but she calms down eventually.

I'm at a loss as to how to at least get her to stop the scream barking! It's like she snaps and won't listen to me at all. It makes me not want to take her out because she makes such a scene, but I know that is exactly what we don't need to do.

Also we did a 5 week puppy kindergarten class from when she was 3 1/2 months old and she did great. She has always been very friendly and licks everyone too much (We have a 5 1/2 year old daughter who our pup adores). Like I said this behavior is very new and I'm not sure how to get her to calm down.

Thanks so much for any advice!
Newly adopted cattle dog mix male has bonded with me but increasingly barks and growls at my husband when he enters the room.
by Linda Turco
(Tehachapi, CA)
I brought home a 1 year old cattle dog mix male, Willie, three days ago; my husband was out of town and met the dog for the first time two days ago. Things seemed to be going pretty well, but then he started barking at my husband every time he entered the house or a room.

My husband has been trying to calm him by calling him over and giving him a treat, petting, etc. He will usually calm down, but today it seems to be escalating. Willie is totally mellow and loving around me, and gets along well with our other dog.

I was gone all day yesterday, and my husband and the dogs had a good day together. It seems to be when I am present that this happens. What should I do?
Barks and barks and barks!
by Kristen
(New Jersey)
Hello,

I recently rescued a 6 year old Coton named Jet. While at the shelter he barked a couple of times but I didn't think much of it, dogs bark right?

On our car ride home he shaked and panted the entire way. At this point I didn't know what to do. Some people say reassure him others say ignore him. I did nothing.

We got home and he seemed fine. I had invited a friend over and before she could knock on the door, Jet was barking and clawing at the door. My house settles, he barks. A car drives by my house, he barks. I drop something on the floor (thud), he barks. What can I do?

Another problem I'm having with Jet is that he is soiling his cage. He came from a shelter setting where this was okay but how do I transition him?


I love my Jet. I have no regrets. All I want for him is to live a happy life.



Need Help With Barking and Aggressive Behavior
by Susan
(Spokane, WA.)
Our 1 1/2 year old Coton de Tulear, Thomas, barks at pretty much every thing he hears and his hearing it outstanding which makes for some noisy times when we're outside. He doesn't respond most of the time to "no bark" and I could use some advice please. Also he's very territorial with his food and his bones/toys. He gets down right nasty with my Golden Doodle who is 4 times his size but luckily is sweet and mellow and he has even snarled at both myself and my husband when we try to take something out of his mouth or away from him. That behavior is simply not acceptable and he gets reprimanded by tone of voice and if really bad he gets a light tap on the nose. Please help!!! Thank you.
How can I take my dog out without him barking all the time?
by Jean Gradwell
(Hampshire UK)
I bought a Coton five weeks ago from a top breeder who is chairman of Coton club. He barks all the time when out and he growls now at everyone entering the house.

The therapist, which breeder paid for, diagnosed fear aggression. The vet said not he was not socalized; breeder said he was. He was 5 months when I bought him and I cannot take him outside as barking is frightening others.

I do not know what to do, as he is perfect otherwise. Please can you help? The breeder said he would take him back but I could not return him - I love him.
Coton de Tulear, BB, Not Barking Anymore (Sort of)
by Steve and Regina
(Staten Island)
Hi everyone -- here is a long one, but worth reading.

BB has had a busy month! We brought in a trainer and in 60 minutes two major behaviors changed -- barking every time he went out on the deck and him not coming to his mommy when called.

First, his mommy issues. I was always the one who put him in his crate to sleep -- which he hates. He came to associate me with crating. Trainer had me squat down, put my hands between my legs, clap lightly and call him. Within 60 seconds he came to me and now almost always comes to me when called. If not, I just bend down and repeat the move. He has learned to trust me all over again, and we are best of pals. Daddy is still his favorite, but I'm right up there.

More important was the barking issues. We have a deck that extends into a park and have many visitors -- racoons, birds, possums, cats. There were even baby racoons under the deck. Each time BB went out, which was about 25 times a night, he would race out barking, check the perimeters, huff and puff, and bark, and bark.

So the trainer comes. He (the trainer, not BB) sits down. I open the back door. BB goes to do his routine. But just as he starts, the Trainer tosses a bean bag in front of BB and growled. BB stopped in his tracks. Backed up. Looked at us. We reassured him that everything was okay and he could go. He runs out -- no barking.

Turns out that the reason why he was barking was to protect us from our visitors. He still runs out, he still checks the perimeters, but he doesn't bark. Every couple of days, we go out with him and check the edges of the deck with him and let him know everything is okay and we thank him for checking.

The important thing is that he does still bark sometimes (we wouldn't want him to lose his voice)but we have been able to teach him good barking from bad barking (front door yes, back door no).

I know this is getting long so one last thing. We learned to talk his language. When he misbehaves, we growl at him. A low gutteral growl, just like he does. He gets it! Of course, we do this in public too, which just makes us look crazy.

Bottom line, definitely worth the money! So for all you Coton owners, learn how to growl. It was almost too easy a fix, but it is working for us.

Hope this helps. Our angel is even better than before (as if that is possible).


Why does our Coton bark at walkers and neighbors?
by Janice
(Greensboro, N.C.)
He doesn't seem to like strangers. Sometimes he acts as if he wants to bite them.
Copyright© 2008- All Rights Reserved