House Training a Puppy Potty Training Guide Review:
Need help house training a puppy? Is the 7 Day Potty Training Guide Program right for you?
Check out the dog training review below:
---
Potty Training Guide
General Program Overview: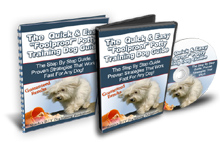 Cost:
$14.95 This 17 page E-book has everything you need to know to get your dog potty trained within just 7 days. Whether you have a puppy or an older dog, even a dog you brought home from the shelter, you will find everything you need to get your dog trained the right way – fast and easily. You will also find some of the most common stumbling blocks that many people run into when they are house training a puppy or dog.
Program Contents:
Here's just some of what you will discover in the Complete
7 Day Potty Training Guide:
Discover which methods of house training a puppy work and which ones don't.
Learn the best time to start training your dog
Find out the best equipment and supplies you'll need to best potty train puppy in just 7 days.
Best way to clean soiled areas and get rid of those smells.
How to handle older dog house training
How to make the most of using potty pads
Discover house training tips for dogs in apartments and even in extreme situations like snow, dealing with rescue dogs, or dogs who were improperly trained
Learn how to crate train puppy the easy way
Find out what kind of schedule your dog needs to be on for successful potty training
How to get your house ready for potty training
Tips for litter box training and paper training
Understand what to do when your dog has an accident
Bonuses:
No bonuses were offered at the time of this review
Pros & Cons:
Pros:
If your only goal is house training a puppy, this E-book gives you all the information you need to do just that.
It is relatively inexpensive and a small price to pay for a housebroken dog.
60 day money back guarantee
You gain access to the E-book within minutes
Cons:
While there are some great tips in this short 17 page E-book, much of this information can be found for free on the internet if you want to do some research. But, the small fee may be worth not taking the time to do the research yourself.
This is for those who ONLY want to learn how to potty train their puppy or dog. This E-book does not include any other type of training so you would have to buy additional training material if you needed to learn obedience training or solve behavior issues.
I would recommend this book if you only need to learn how to potty train your dog. The other
recommended dog training programs
INCLUDE house training so it's a better value to be able to learn ALL kinds of training – obedience, house training, puppy training, training an older dog, behavioral problems, and teaching easy dog tricks.
---

Click here to order the 7 Day Potty Training Guide
or to learn more.
Return to Dog Training Reviews
Home | Sitemap | About Me | Contact Me
| Privacy Policy | Disclosure




Copyright© 2008- All Rights Reserved