Agility Training for Dogs
Is the Coton de Tulear
A Good Candidate for Dog Agility Training?
Agility training for dogs has become very popular whether it's for competition or just for enjoying backyard agility exercises.
In competition, the dog races through an obstacle course to win. It requires a lot of time and dedication; not to mention teamwork between you and your pup. It's helpful to already be proficient at obedience skills before attempting competitive agility training for dogs.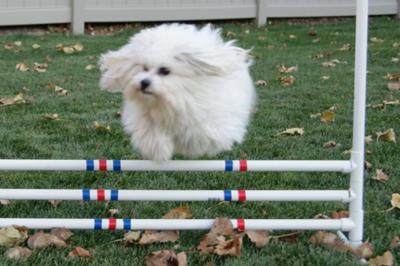 Backyard agility training isn't so much a race against the clock or another dog, as much as it's a way to bond, provide exercise, and have fun together.
All dogs can participate in agility training no matter what breed or size.
The Coton de Tulear dogs are especially good agility participants because they:
Are speedy
Have the desire to please
Are smart and are easy to train
Have lots of energy
Like to be active
Love spending quality time with their owners
Are in sync with their owners – communication is key in this sport
Love having fun
What are the benefits of dog agility training?
Provides exercise which enhances their health and vitality


Enhances communication between pet and owner


Improves bad dog behavior; a bored under exercised pet will find all kinds of ways to get into trouble


Improves balance and coordination


Builds a stronger bond between you and your dog


Most importantly, it's fun for both you and your pup
You don't have to spend a lot of money on agility training. Recreational training has all the advantages of competitions and you can find relatively inexpensive agility training starter kits for the backyard agility course for dogs. You can even make your own.


Want to see an example of this agility training in action? Watch these pups having a blast in their backyard. Amazing! I just know Luc could do this - he's soooooo fast (especially when chasing ducks).
Just starting out? check out these dog agility books for more information.
Return to Beyond Basic Dog Training
Home | Sitemap | About Me | Contact Me
| Privacy Policy | Disclosure




Copyright© 2008- All Rights Reserved