Boarding Your Coton
by Lana
(USA)
Hi everyone. Our family is about to get a Coton and we are concerned about boarding him. Has anyone ever had to board their Coton and what was your experience? Unfortunately, we do not know of anyone who would be willing to take care of our dog in their home should we need to travel without him.
Need air travel suggestions
by Donna
We have a 21-pound Coton, who is 2 years old. We want to take him on vacations when we fly, but can't figure out the airline that is best and how to navigate that. Obviously, he can't fit under the airline seat. Any suggestions?
Has your Coton ever been boarded? how long? was it positive or negative?
by Iris Miller
(Bristol, CT USA)
I will not be able to take Tuffy with me this time to California. I must be gone about three weeks and a trainer I trust knows my dog, and told me Tuffy will not do well left home alone all day and definitely do not medicate him (my son and his wife will care for him, but they work all day). She said he will be a disaster and so will I when I return, and it will take a long time to undo all the stress he will be under. Tuffy is used to me being with him all day and going out for brief outings frequently.

She highly recommends I board him in a doggy camp where he will get the care and attention he needs and have lots of fun.

I need help from all my Coton owner friends, opinions and advice please! Do you have a single dog, a Coton at home, does he have anxiety when you return?
love,
Iris
How does your Coton travel?
by Iris Miller
(Bristol, CT USA)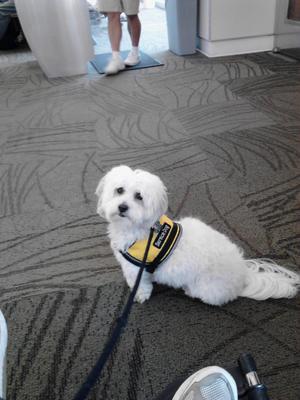 Waiting to board a plane to CA
Here's Tuffy on our most recent trip to California. He was a bit confused watching all the people come off the plane, when we were actually waiting to get on that plane. Eventually, he turned the opposite way to see if their was a line starting for boarding. My dog is super smart!
love, Tuffy and Mom
Crying and shaking on car rides.
by Sandra
(hamilton, Ontario)
My coton is almost five years old and is still terrible on car rides. He starts crying ,panting and pacing in the car. We have done many long distance drives with him and he does settle down after about 30 minutes. However even after all the long drives he still hates the car. We were hoping he would have out grown this behaviour but no such luck. Is there anything we can do or give him to make car rides more enjoyable?
Sandra

How do you handle traveling without your Coton de Tulear?
by Susie
Gale, you mentioned in your newsletter that you have been traveling. I have a question. We have a Coton de Tulear that is coming up on 6 months old. My husband and I like to travel....not often...but there will be times when we will need to board Keeva. We have a nice boarding facility near us that I trust completely. Do you board Luc???

Just wondering about how others deal with traveling without their dogs. I want to be comfortable and I want my dog to be comfortable too....or heck, I wouldn't enjoy a vacation!!!
Copyright© 2008- All Rights Reserved