Spanky & Gleason
by Diane
(Floral Park, NY)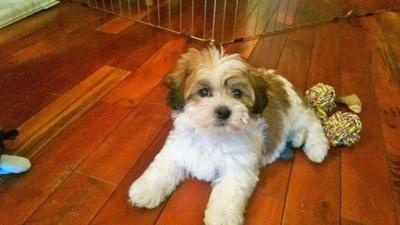 Gleason, 9 weeks old, 1st day home.
I think most of you know Spanky (you can find him on Facebook under "Spanky Escobar") and recently I posted about our newest addtion to the pack, Gleason. Spanky and Gleason are getting to know each other and enjoy playtime (sometimes we believe a little too much... LOL). They are in their 2nd week and we are doing fine. Gleason is a little rascal for sure, always initiating play with Spanky. Spanky is such an angel, he lets him hang on him. Last night I felt that Spanky was getting a bit rough but I don't know if that's just Mommy's over protective nature. Their posturing confuses me sometimes, thinking its growling. Very vocal for the most part but just romping around.

Tell me how your 2nd addtion into the pack went (or is going). I would love your feedback!

Copyright© 2008- All Rights Reserved