How to select a Coton puppy?
by Steve Kostyal
(hungary)
How do I select the puppy for me?
New Puppy Questions
by Crystal
Hello! Thanks for your helpful website! I am the proud owner of a 5 month old Coton! He came home with us 3 days ago. He is already showing great improvement in leash walking and potty training.

However, I have a few areas of concern. We live in an apartment complex and have already received complaints about his barking when we put him in his crate. We made the mistake of making him sleep in his crate in the laundry room instead of our bedroom. I will try tonight to see if that works. But I am afraid he will bark incessantly if we crate him and we leave the house. Any tips?

Also, our little Coton is a boy. He has taken an obvious liking to me, and not my husband. Granted, I am more experienced with dogs and my husband has never had a pet. Our dog probably senses my husband's inexperience/hesitation. I know there is a learning curve for the two of them. But can I expect those two to become closer? I hear male dogs bond more with female owners? I really don't want our Coton to be "my dog." I want our dog to love both of us. Any tips?

House training a puppy with no garden?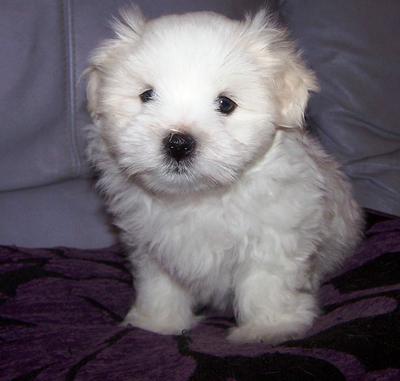 I am getting an adorable Coton de Tulear puppy this Friday. He will be 9 weeks old and a bit, he is 10 weeks on Tuesday when he has his second vaccination.

I'm worried about how I am going to house train him for now as I don't have my own garden - it's a communal one shared with other people in my flat building. I have not seen any dogs in the garden since I moved here, but I think there have been some people with dogs here before.

I don't think its worth the risk of toilet training him outside just yet, so, unfortunately I am going to have to train him with puppy pads inside :(

Will I be able to "unteach" him these bad habits of going inside? Will he just be totally confused?

Puppy temperament
Hello,

We have a 10 week old Coton since 7 days at home. He is very attached to my daughter, but I don't think he is affectionate much. It seems he doesn't need stroking and playing, and he bites us. Is that common for puppies or is that a question of temperament?

I have no experience with puppies, but I thought, coton puppies are more gentle..


How much should a Coton puppy sleep?
We just got a 7 week old Coton and he seems to sleep almost all day and night. We can only seem to get him up to play for a couple 30 minute sessions a day. Is this normal?
Introducing a new puppy to 2 year old dog
by Mary
(Oh)
We have a female that is 2. Brought home a 5 month old and they are not getting along. What to do about the fighting and biting.
Is a Coton de Tulear puppy worth the effort involved in buying one?
by Frustrated
(AZ)
I am absolutely frustrated at this point. So frustrated that I will probably give up my search.

I lost my wonderful 13 year old lab recently and started a search to find a perfect companion dog. After considerable reading, I found the Coton de Tulear and thought I had the answer.

Then the real fun began, when I tried to locate a puppy to buy. First, there are so many organizations explaining why their standards are the only correct ones and if you don't buy from their recognized breeders, you will not get a true Coton.

Secondly, the listed breeders request deposits on dogs that are not even conceived yet. They also have applications to complete to see if I am a suitable parent for their dog.

Then there are websites. Some say they have puppies available, but that information was posted in 2011. Or you contact a breeder and they do not reply at all. Or they reply but will not reveal the price. And the price, anywhere from $900 to $3000! What is the difference? Puppy mill to breeder to the stars. Some breeders who talk about high standards try pawn off defective dogs, ie: underdeveloped, pigmentation problems.

All I want is a good pet.

Anyway, the breeders of the Coton de Tulear are making these dogs very undesirable in my opinion. Is there a better way to buy one of these dogs and are they worth the effort?
New Puppy Question
by Janice
(Canada)
I just brought my Coton home last night, her name is Lacey. She is four months old and I know she will take time to adjust, and I expected her not to eat, but she also has not peed. Also, when I put her down, she basically just sits where I put her and won't wander and explore.

Now, I have to admit, my daughter has her out on the deck the first night and she was smelling the flowers and literally walked right into the pool. I think this might has scared her. I don't want to "train" fear into her. How do I get her out of her shell in a happy way.
Is 10 weeks too old to bring a puppy home?
My pup will be 10 weeks when I bring him home. Is it too late? Will he bond with me the same?
What is the best way to introduce a Coton puppy to older family dog?
by Rona
(New Jersey)
In the next month we are adding a male Coton de Tulear puppy to our family which consists of me, my husband and our 9 year old English Springer Spaniel, Gus.

Gus gets along well with other dogs and is still quite active, so we are hoping that he will be a great playmate and role model for the puppy. We would like to know how to best handle the initial introduction of the new puppy into all of our lives.

Someone suggested that we have a third party (such as our grown son) bring the puppy into the yard to meet the family. I would welcome any and all suggestions and recommendations. Thank you!


What is the best way to get our coton de tulear puppy to want to be with other family members?
by Kathy
(California)
We have only had our Coton de Tulear, Khole, a week (she's 14 weeks old) and I have read that Cotons really attach themselves to one family member. I am a teacher and will go back to school in August and would like to have her not be anxious because I am gone all day. My husband is home on and off during the day, but when he takes her out, she runs back to the door to come in and runs over to my feet. If I give her to him to hold, she tries to jump off his lap. Also, I am the one who feeds her...

Thanks. We start "puppy classes" today.

Does male coton de tulear puppy coat grow faster than female?
by Sara
(Ont. )
I am getting a female coton de tulear puppy in March, and the male puppy has thicker fuller fur then the female. Will her coat get fuller as well? They are 6 weeks old. Any information will be great! Thanks
How do I get my puppy to stop nipping and biting?
by Donna
How do I get my puppy to stop "nipping and biting" whenever my children run around with her? My younger son is somewhat fearful of her and every time he moves quickly from her, she follows him with her mouth open ready to play. How do I stop this behaviour, so my son isn't afraid to be around her?

Please advise. This is our first puppy. My older son is very good with her, but is also fearful of the "nipping" issue.

Why does my puppy smell like dog?
by Sharon
(Michigan)
My pup is 4 months old. Jasmine is the cutest dog I have ever seen. She is a coton poodle mix. Black and white. I bathe her once a week and then the smell is there the next day. Her ears and skin are fine as per her vet. She does play outside with my 2 Siamese cats. She is very healthy. I have tried 2 different shampoos from the pet store.

I know dogs smell like dogs but I think she just stinks. I have not owned a dog in over 20 years, only cats, who do not smell. My house is very clean. I clean her bedding every couple of days. I use doggie wipes when she comes in to wipe her feet. I have checked the labels on her food and treats and no corn or soy products. I just don't get this. How can I make her smell good or have no smell? I realize she is a dog but should she have a dog smell especially after a bath? Help!

My 6 month old puppy is suddenly crying at night!
by Laurie
(New york )
After sleeping easily in her crate from about 10 pm to 7am, my six month old has suddenly started whining and crying for hours. We alternate the location of her crate between our room and our son's room(when he is away at school) in order to have a little more freedom in the morning as she wakes the second she hears onemof us creeping out of bed.

The location of the crate hasnt been a factor for her up until now. We moved her crate back into my son's room earlier this week when he went back to school but for the last two nights shes been whinig and crying intermittently like crazy.
Has anyone else experienced this?

What does the average Coton de Tulear puppy weigh?
by Audrey
(Washington )
How much do average coton de tulears weigh at 8 weeks old and 10 weeks old?
advice for my Coton's puppy's first night at home
by julie&kris
(hastings, mn)
Hi, first of all I love love love this site, its so helpful! It made us decide to get our first Coton, we are so excited to finally bring him home, and we have read about everything just so we are prepared to make him happy and comfortable in his new home, but we don't know what to do on his first night here.

We got him a kennel that is bigger just so he's not too tight in there (24"x16"x16") and a pillow that fits perfectly in there, now our question is if we should put a small piece of the wee wee pad in there on his firsts nights while we potty train him, he's been trained to go in the pad, he's 3 and a half months old now, I'd appreciate your advice!

Coton de Tulear puppy nipping and chewing
by Deborah
(USA)
My little Zoe is 4 months old and is a combination of a very sweet dog and a little nipper. I have tried several things to stop her from nipping, but nothing seems to work. I was hoping that I could get some tips as what to do.

She is also a terribly destructive chewer. She chews EVERYTHING! Wood, shoes, metal, etc. I have tried to put every kind of deterrent on the market on things that I can't move, but she actually seems to like it! LOL!

Advice on that would be appreciated also. Other than that, she is really a sweetie and also a little clown. We adore her, but just wish we could correct her bad habits. Any information would be greatly appreciated. Thanks so much.

Older puppy adoption
by Charlotte
(London)
We have been given the chance to take on an older puppy, a male Coton of six months. Would there be any problems with socialisation or bonding (or anything else!) that we might meet with a dog slightly older than the norm?
New born Coton Puppy question
by Sue
(England)
How much does the average little Coton puppy weight at birth??
Puppy won't come down the stairs
by Janine
(Sarnia ON)
Almost 4 months old our lil puppy recently mastered going up the stairs but cannot come down on her own.

If we go down she barks because she wants to come I think. We go up to the top of the staircase and she barks and backs up! What is she telling us? It is tricky to grab her and carry her down although this is what she wants...I think . Any thoughts? Is there a way to teach her to come down the stairs??

Will rescued Coton puppy be a good fit with older dog?
by Edward
(Broomall, PA)
Are Coton dogs good when introduced to older adult dogs that are in the home?

We have a 7 year old Havanese who likes to play with all small dogs. Would introducing a rescue (puppy mill)Coton de Tulear be a good fit?
My 14 week old pup just bites, should I be concerned.
by Afi
(Vancouver, BC)
He bites at everything everything. It hurts and he becomes vicious at times. What should we do?

buying two cotons together as puppies how is best to train them
We are thinking of getting two coton pups together is this a good idea?
Can you predict what your puppy will look like as an adult dog??
by Candee
(California)
We are hoping to get a Coton de Tulear soon, and like the look of the flatter face, more snub-nose look, as opposed to the longer face. Also, hoping that as an adult, it will be on the smaller side. Can you predict by looking at the parents of the puppy? Or, is it safer to get the "runt" of the litter?

Whatever the dog looks like when it's older, we will adore it, of course, but wondered if this is something we have a choice on...
what sign do i get when my puppy wants to pee outside?
by Morticia93
(Montenegro)
My 5 month coton pees outside, but if i'm not paying attention on him he will pee in the house. I need a sign from him, every time when he wants to pee he just stay in the hallway and stay stiff and looks at me, but what if i am not in the hallway? I need a different sign from him. I dont know how to change that.
Crate, playpen, pee-pad logistics for Coton de Tulear Puppy
by Tracy
(Florida)
Coton de Tulear Puppy
I got my Coton pup on 3/16 and couldn't be more excited! I have bought a small crate, a playpen and puppy pee pads (among other things, of course).

Ultimately, as an adult dog, I hope he'll sleep in the crate next to my bed at night and have run of the house during the day. I'd like him to use pee pads inside the house (kept in a spare bedroom that we never use) if we're gone too long, but will be taking him out regularly to do his business outside, too.

So...as an 8-week old pup, what are the logistics involved? If I put the crate next to my bed, should it just stay there all day? I could put him in the playpen then when we can't focus on him (like when making dinner or something). Or should I also move the crate out to the living room each morning so that he can use the crate during the day if he needs a little puppy nap?

I understand crates are supposed to be where the family is, so I worry that if its tucked away in the bedroom, he wouldn't use it during the day.

Also, if I use pee pads, should I put them in the play pen while he's so young or put them in the spare room where they'll be permanently later on?

Am I just over-thinking all of this?

Thank you!

Tracy







Puppy Picking Question
There is a breeder out of state who has beautiful pure bred coton puppies. If we get one I want first pick but I wanted to be able to be at the house and see how the puppies interact with each other before I decide because it's real important that I get the puppy with the temperament that I want and I have found when I pick them from the litter, I have always been happy because I can see how their temperaments are with each other (which is how their temperament will be with us).

The problem is when the litter is born, she posts the puppies on her website and as soon as someone pays the deposit, that puppy is taken. So, I could not be able to visit the puppies first since by that time all the puppies would probably be taken (sometimes they are literally spoken for within a few days after she posts them on her website.)

She does not allow people to visit until at least 6 weeks because she does not want the puppies to get parvo (she had one time where people came to visit before 6 weeks when they get their first immune shot and the puppies contracted parvo from the visiting persons because they had not yet gotten their first parvo shot).

Any suggestions? Her puppies are beautiful and it's hard to find a breeder that has coton puppies that actually look like pure coton puppies. But I am disappointed that by the time I would want to pick one from the litter that they would probably all be spoken for. No doubt all her puppies are really handsome and pretty so they would all look beautiful, but I also want a sweet mellow puppy who isn't the alpa or the omega, but one in between who seems to really like us. I can only tell that if I see them in person and pick one out but it doesn't look like she does it that way, it's first deposit sent, first pick, within a few days of posting usually. I would know the beautiful appearance but not know the temperament until we brought the puppy home (and then it's too late).




Puppy Training-HELP!
by Rebecca
(USA)
Hi All,
Thank you so much for the help on my previous post about picking a name for our puppy. We decided to name him Bode (BO-DEE). We brought Bode home 5 days ago and have begun to potty train him. We decided to go with the crate training method of training and take him outside about every hour. Things were going great for the first day (no accidents inside!!) however, in the last few days Bode has had several accidents in his crate. It is strange we will take him on long walks and he will go #1 just fine but refuses to do #2 outside. Right now we have about 1 1/2 ft of snow so I take Bode out and stay out as long as I can until he starts to whimper and sit down on the ground and just stare at me. I am not sure what to do, I know he needs to go but I am worried that when he starts crying that it means that he is cold (it has been about 5 Degrees here everyday). Also, he wont begin crying until about 20 mins into our time outside.


Any advice on what we should do?


Also, is it normal for Bode to literally chew on EVERYTHING he can get his hands on? We have tried to stop this by taking whatever it is he is chewing out of his mouth and replacing it with one of his toys but it seems that he becomes more chewy everyday. Any advice would be very much appreciated. We know how important it is to begin training right away and just want to make sure we do what is best for little Bode.
Thanks!
Rebecca
Copyright© 2008- All Rights Reserved