My Coton is 8.3kg 4, yrs old. Is she true Coton?
by Christine
(Uk)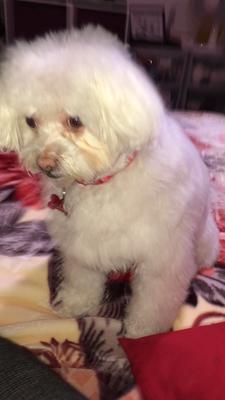 On purchasing my poppy just over 3 yr ago, I wasn't given kc papers, nor was I ever shown papers for her parents. The owner explained she didn't want the litter to be bred etc, & just selling as pets. I love her so much, it's just I have seen, over the yrs other Coton's. They are half the size of my lil Pops, & weighing in at no more than 6kg. I am really interested to find out IF my poppy is a True Coton (she has also been spade). We go for approximately 2 15 minute walks per day, she plays on & off 10-15 mins at a time with me with her toys in the day. But she sleeps in between that (more than play). Also sleeps a minimum of 7 hrs str8 through the night. Sometimes I worry about her? As she always (for a 4 yr old) seems tired. Is this normal for a Coton. Are there vets, professionals etc that could tell me.? I am just really interested. She also has a pink nose, & doesn't have the black rimmed eyes. (She did as a pup). I have never been told by my vet when I've taken her for injections, check ups etc that she's overweight!


Any help or I for would be much appreciated.
Thanks
Christine
Copyright© 2008- All Rights Reserved