Moriarty's Grand Niece & Nephew!
by Mitchell Tuckness
(Lovington NM)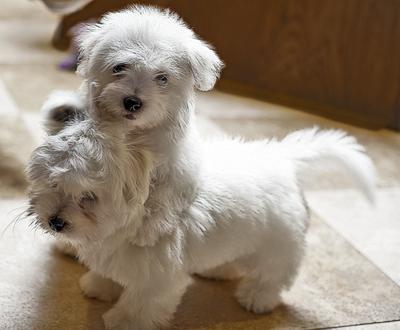 What? I was NOT wrestling with my Brother!
So, last weekend I went and visited Moriarty's breeder, since I never got to meet her when I got Moriarty and I thought it would be nice to meet her, let her see how Moriarty had turned out and talk to her some about Moriarty's family history.

First off, it was a blast. She is one of the nicest people I have ever met and so is her husband. The next park was that Moriarty's father, Rocky, was a several time US National Champion! How awesome is that! His mother Dora was also a champion! Needless to say Moriarty has some nice relatives.

The other exciting thing was that she had puppies! Two sets and the older ones, at 9 months, were Moriarty's Grans Niece and Nephew! They looked just like his when he was their ages! She also had another set of puppies, from a different mother, not related to Morty, but they were very young so we just tickled their noses but didn't get them out of their kennel.

Anyway, here are a couple of pictures of Moriarty's Grand Niece and Nephew and they are adorable! If I would of had the money I would of gotten one, so cute (but they were all spoken for)!
Copyright© 2008- All Rights Reserved