Lulu Victoria, Coton de Tulear?
by Francia
(Florida, USA)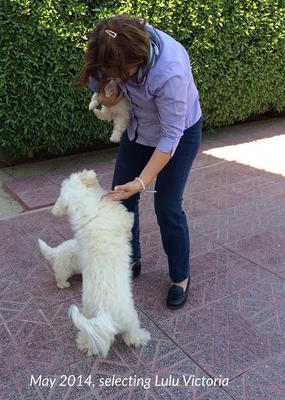 March this year my Lulu Victoria will be 3 years old. I received her as a present, a way of healing me after my 13 years old Schnauzer Miniature passed away. I was told she was a Bichon Bolognese. She was two month old. After another month, the Veterinarian and I realized she wasn't Bichon bolognese: straight cotton- like hair, elongated body, pink skin, curled tail over her back, white with a tan mark on the right side under the ear. Her left eye lid wasn't dark but pink, and the paws had patches of pink with very dark brown. Her vaccination passport says: Breed: Bichon Mix. She is spayed and wears microchip.

After she was one year I sent samples for a DNA test: it said she has mixed ancestors and the final parents were Gordon Setter mix with Miniature Poodle mix. I complained and the Lab said Lulu was a super mutt. My Lulu is identical to their siblings and to her mother. After reading opinions and viewing all the pictures and descriptions on the web, and especially on this site, I sincerely believe she is a Coton de Tulear!. Actually she has 15 pounds and a height of nearly 12 inches. The pink eye lid is starting to have dark color. She sheds a little and change hair nearly every 6 months. She was born in Kuwait and now we live in Florida. The worst habit? Jumping to dinner table to eat what she finds there. My grandchildren adore her. When I walk her people always ask: What type of breed is that? . In Florida the new veterinary labeled her as Maltese. Again, I believe she is a Coton. Anyway, she is so lovely and cute that all my family adores her.

I am uploading her pictures since she was 2 months old.
Copyright© 2008- All Rights Reserved