Put an end to Leash Pulling
Leash training your puppy
is easier than you think
Is leash pulling putting a damper on your daily walks with your dog? Is your Coton de Tulear walking you?
Are you having trouble leash training puppy? Leash pulling is pretty common but with a few consistent training corrections you and your dog can learn to enjoy your walks.
It's not realistic to expect a dog to walk on a leash properly the first time you put one on. You have to help him understand what you want him to do. You definitely want to teach your dog good leash behavior for safety reasons and to make going for a walk a pleasant experience for both of you.
If taking your dog for a walk on a leash is a struggle, here are some proven tips to ensure both you and your dog have a good walk.
General Leash Training Puppy Guidelines:
Be consistent. Train EVERY day.


Start out with very short sessions and ALWAYS end on a positive note. You want your dog to look forward to walking on a leash.


It can be a good idea to enroll in a community obedience class. Sometimes your dog listens to you when it's just you and him, but as soon as he's distracted all bets are off. Obedience classes get him used to all kinds of distractions while he's learning.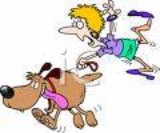 Leash Pulling Solutions:
Put your dog in a sit-stay and then calmly attach the leash. Your dog will learn pretty quickly that when you attach the leash a walk is sure to follow so he may get overly excited. Don't put the leash on until he's sitting still and calm. Reward him for good behavior.


Start out in an area where there are few distractions. You may just want to walk around inside your house at first or in the backyard. Once he gets the basics, you can wander further from home and keep adding more distractions.


Take hold of the leash and stand still until your dog is standing calmly at your side (this definitely may take awhile). Reward your dog when he does this correctly.


Take small steps and keep going as long as your dog is walking calmly beside you. As soon as your dog runs ahead, just stop. It's very important to give constant praise when your dog is exhibiting the correct behavior.

Return to Dog Behavior Modification
Home | Sitemap | About Me | Contact Me
| Privacy Policy | Disclosure




Copyright© 2008- All Rights Reserved