Jasper was just diagnosed with a luxating patella
by Leslie
(Oakland Ca)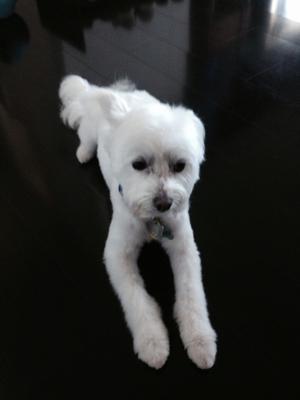 Jasper got his fur cut a little short. But it will grow out
I had noticed over the last 6 weeks or so that Jasper had more of a skip than normal. When I first adopted him, he seemed to prance at times. I feel that this is a progression of his" prancing" I kept thinking that he had somehow injured himself. I emailed his vet and with his symptoms this was what she suspected. I took him in and on exam she felt a crunchiness at his knee which is called crepitus. She put him on Metaclam which is a non steroid anti inflammatory medication for dogs. She then recommended that I start him on Cosequin which is like glucosamine.

Well he takes the Metaclam easy as it is sweet and I squirt in his mouth. The Cosequin is another story. He hates it. I have ground and broken it up. I am goin to try it in cheese or peanut butter. I had to only take short walks for 2 weeks. Then I tried taking him around the lake. He had to stop every 20 min and lie down. It is such a bummer because going out side is his favorite activity as he does not play with toys.

This condition happens in small dogs like Maltese and Cotons my vet said. Jasper still loves to chase the ducks and he loves to run hard for a little bit in patches of healthy grass . My vet says this is a chronic condition. If he stops the skipping, I can stop the Metaclam. On days when he seems to mostly have the skip/ limp then I can give him pain medication. I gave him his first dose yesterday and it was great. It did not snow him or anything.

You know it is hard. We all want our children and pets to be healthy. This is sad about Jasper. I think though he is blessed to come to my home because I can and want to take care of him. I hope sometime we can walk the whole lake again but meanwhile I want him to become asymptomatic if possible.

Copyright© 2008- All Rights Reserved