Is my dog a Coton?
by Tonya Howard
(Wichita, Kansas)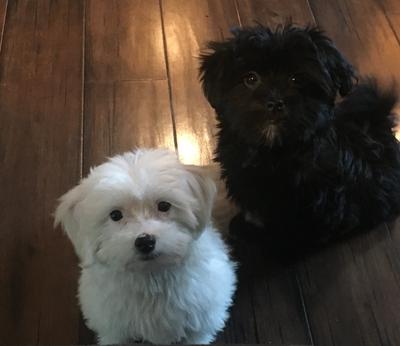 Mitzy with our havanese
I bought Mitzy and was told she was a Coton. We love her and she is now part of our family,BUT we aren't sure she is really a Coton. She has pink eye rims, pink paws and we aren't sure her short tail and ears are consistent with the Coton. Her feet do not look as fluffy and big as most Coton pictures we have seen. Her body is a little long (like a maltese). We did buy a DNA test and are awaiting the results. We did not know much about the Coton breed when we fell in love with her and had also never purchased a pet. We now know how wrong (in many ways) people feel it is to purchase a pet from a pet store. We purchased Mitzy from petland here in Wichita, Kansas (horrible staff and experience, but you can't help what your heart falls for.

If she is not a true Coton like her papers say, we do plan to discuss the concerns of the faulty purchase with the store owners. We researched the Dam and Sire and it was sketchy. The breeder and broker (same) seems terrible and it makes us sad. So now that we have rescued her from Petland, is she a Coton?
Copyright© 2008- All Rights Reserved