10 Hilarious Ideas for a Funny Dog Costume This Halloween
Halloween is all about the costumes, so let's talk about some funny dog costume ideas to make the holiday as fun and safe as possible. We don't want to leave our pets out of the festivities, right?
Whether you're dressing up small dog breed like the Coton de Tulear or a large doberman, a Halloween costume is a fantastic way to create memorable moments. The key is not sacrificing safety while having Halloween fun.
And you also have to know your dogs. How much are they going to tolerate the noise and the excitement? How will they handle being dressed up in a costume?
I know that my dog, Lucy, would absolutely hate it. She won't even let the groomer put a bow in her hair or a scarf around her neck. So, I wouldn't put her through the stress of wearing a costume.
But my dog, Luc, was such a trooper. He wasn't exactly a fan of costumes, bows, and scarves, but he would tolerate it and just walk around begging for hugs and treats.
5 Types of Funny Dog Costume Ideas for Halloween
How do you decide on the best Halloween costume for your dog? Below are some popular Halloween costumes to help you decide on which funny dog costume to choose.
I've broken the top 20 costumes into 5 main categories: 
Category 1 – Funny Dog Costume Ideas for One Dog
No. 1 - Martini Glass Costume: If you're feeling a bit more creative, you can craft a martini glass costume using a cone-shaped piece of fabric for the glass and attach a few small plush olives on a string.
No. 2 - Dog Prisoner Costume: I know your dog is a good boy or girl and would never end up in jail, but this prisoner costume is still cute and funny. 
No. 3 - Bumblebee Buzz: A little yellow fabric and some black stripes can quickly turn your dog into the cutest bee in town.
No. 4 - The Pumpkin Pup: Orange fabric and green or black felt can create a cuddly pumpkin costume. 
No. 5 - The Ballerina Princess:  This is a cute dog costume for all the divas in touch with their feminine side. A little tulle, and you're good to go.
No,. 6 - Harry Potter: If you think your dog is a wizard and would be able to keep these Harry Potter glasses on, this costume would be adorable.    
No. 7 - Hot Dog Costume with Condiments: Turn any dog into a hot dog, complete with ketchup and mustard. Of course, everyone expects this from Dachshunds, but you can make it work for most dog breeds.
Category 2 – Funny Dog Costume Ideas for Two Dogs 
Got a dynamic duo? Check out these themed costume ideas:
No. 8 - Peanut Butter & Jelly: Dress one dog as a slice of bread with peanut butter and the other with jelly.
NO. 9 - Pirate Pals: Come on, bulldogs are funny with or without costumes. But bulldog pirates are especially funny. 
No. 10 - Salt & Pepper Shakers: This would be especially cute with one black dog and one white dog, but would truly work with all dogs.
Category 3 – Funny Human & Dog Joint Costume Ideas
A family Halloween costume is a fun idea and a great way to celebrate the unique bond between you and your dog with these matching costume ideas:
No. 11 - Pirates of the Caribbean Theme: Here's another pirate option, but this time, it's for a dog and its human. Matching pirate hats and scarves can make you and your pup the most fearsome pirates on the block!
 No. 12 - Sherlock Holmes Detective Duo: Dress your dog and yourself as a detective team equipped with a magnifying glass and hat. 
Category 4 – Funny Kids and Dogs Joint Costume Ideas
Children and their four-legged best friends share a special connection, and these costumes are a fun way to reflect their playful nature:
No. 13 - Fairy Tale Theme: Transform your child and pup into characters from a favorite fairy tale.
No. 14 - Astronaut & Alien: A silver jumpsuit for the kid and a green alien costume for the dog is a funny costume idea for all the space lovers.
No. 15 - Superhero Dynamic Duo: The only thing better than a superhero dog is a superhero dog with his human best friend.
Category 5 - Funny Dog Halloween Costumes that are Super Simple
Simple is my kind of category. If you're like me and not crafty enough to make costumes yourself or your dog won't tolerate anything too fussy, these costumes are the way to go. They will surely put a smile on anyone's face. And no one has to know how easy they are to make.
No. 16 - Flower Costume: Basically, all you need is some colorful felt fabric and a pair of scissors or get one of these off the shelf flower costumes.  
No. 17 - Ghost Costume: Another easy idea is to dress your white dog, like the Coton de Tulear, as a ghost so they blend into the costume. Use a white sheet or lightweight fabric. Cut out holes for the eyes and ensure it fits comfortably around your dog's body without obstructing their vision or movement.  
No. 18 - Beanie Baby Costume: Transform your smaller dogs into a Beanie Baby by using TY tags and attach it to your dog's collar for a cute and recognizable costume. 
No. 19 - The Superhero:  A cute costume for all dogs is a superhero. Use a colored cape and add your dog's initials for a personalized touch. There are so many superheroes to choose from!
No. 20 - No. Businessperson Costume: Dress your dog as a businessperson with a small suit jacket and a tie or bow tie. Or make it even easier with just these easy neckties.
So, now that you've narrowed down what category your funny dog costume will be, your next decision is whether to make it yourself or buy a dog costume ready-made. I'm not a DIY kind of gal, so I'll focus on the ready-made costumes here so you can find the perfect dog costume. But if you can sew, be creative and create your own homemade costume.
Where to Buy Dog Costumes for Halloween
If you're like me and you don't have the crafty gene, there's no shame in buying a readymade funny dog costume. And apparently, thousands of others buy store-bought dog costumes since it's a pretty large business. These retailers have costumes for large dog breeds as well as your little pup.
Here are some places where you can find adorable creative costumes for your dog:
Halloweencostumes.com: Well, the name of this online store speaks for itself. This company only sells costumes, so there's a huge selection to choose from. You can find the perfect costume for your dog, and get one for yourself and the kids while you're there.
Amazon: It doesn't get easier than one-clicking. From superheroes to cute animals, the options are endless. You can filter the search results based on size, theme, and price to find the perfect costume for your dog. 
Chewy: This pet-focused trusted online retailer offers a range of dog costumes that are both cute and comfortable. 
Petco: A well-known pet supplies retailer, Petco offers a variety of Halloween costumes for dogs. You can find costumes that range from funny dog costumes to spooky, catering to dogs of all sizes. 
Target: Target offers a wide range of pet Halloween costumes. You can find both dog and cat Halloween costumes in their collection. 
Remember to consider your dog's comfort and personality when choosing a costume. It's essential to select a costume that doesn't restrict their movement and is made from comfortable materials to prevent irritation.
Halloween Dog Safety Tips
There's so much going on at a Halloween party or costume party, which can be overwhelming or scary for dogs. The first thing to conisider is your pet's safety during all the Halloween festivities.
Here are a few guidelines to ensure your dog is happy and safe whether he's wearing a pet costume or not on Halloween.
Checklist: Halloween Safety for Dogs
No.1 - Secure the Environment
Identify potential hazards: Remove any accessible items that can be harmful, such as small decorations that can fall down or be swallowed.
Create a safe space: Set up a quiet room where your dog can retreat away from the noise of the excitement. Provide familiar toys and bedding so they feel secure. Respect your dog's preferences. Not all dogs enjoy dressing up or being part of the noise and chaos. And don't even get me started on having the doorbell ring all night long!
Glow stick alert: Keep glow sticks away from your dog, as they can be a choking hazard - especially if you're too busy to supervise.
No. 2 - Costume Safety
Choose comfortable costumes: If dressing up your dog, ensure the costume is a perfect fit and doesn't restrict movement, breathing, or vision. Avoid costumes with small or loose parts that can be chewed or swallowed. Use a Velcro closure if possible so the costume is easy to take on and off. Make sure hoods, hats, and dog wigs don't cover your dog's head so he can't see or hear.
Test costumes beforehand: Have a few rehearsal trial runs before the big day to ensure the costume is comfortable.
No Makeup Please: Many costumes require makeup, so make sure your dog doesn't have access to makeup, which can make them sick if ingested.
No. 3 - Candy and Treat Management
Store candy safely: Keep all candies, especially chocolate and anything containing xylitol, out of reach. I get anxious just thinking about all the chocolate available on Halloween.
Prepare dog-safe treats: Have a stock of safe dog treats on hand to give during the festivities to prevent digestive issues. 
No. 4 - Visitor Management
Brief your visitors: Inform visitors of your dog's presence and instruct them on appropriate interaction and safety guidelines.
Supervise interactions: Always monitor any interaction between your dog and visitors to prevent potential mishaps. Educate children and adults on approaching and interacting with your dog appropriately.
No.5 - Emergency Preparedness
Have an emergency kit ready: Prepare an emergency kit with essential items such as a first-aid kit, water, and a leash.
Medical contact information: Keep the contact information of your vet and nearest emergency animal hospital handy in case of emergency.
Fire safety: Be cautious with candles and open flames, ensuring they're out of tail's reach.
Secure your dog: Make sure your dog is safely secured inside to prevent them from darting out when trick-or-treaters come knocking.
ID tags: Double-check that your dog's ID tags are up to date with current contact information.
Cold Water: Keep water available for your dog, especially if he'll be outside in the heat for extended periods.
Reflective Leash walks: Keep your dog on a leash during walks to prevent them from running off due to scary costumes or unfamiliar noises. Use reflective collars or leashes to increase visibility if you go out after dark on Halloween night.
No.6 - Post-Halloween Cleanup
Inspect the area: After the event, inspect your home's inside and outside areas for leftover items that might be harmful to your dog, such as candy wrappers.
Check your dog's condition: Check for any signs of stress or discomfort and take necessary actions to comfort your dog.
Halloween can be a joyous occasion to share with your dog, but the safety and comfort of your pet should always come first. By being mindful of their needs and taking appropriate precautions, you can create a memorable and enjoyable celebration for everyone involved.
Remember to take some photos and have a fun and safe celebration with your dog. These funny dog photos will provide happy memories for years.
Happy Halloween, and may your dog be the star of the show.

Check out these funny dog costumes - I dare you not to smile!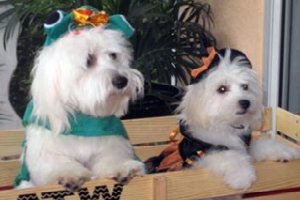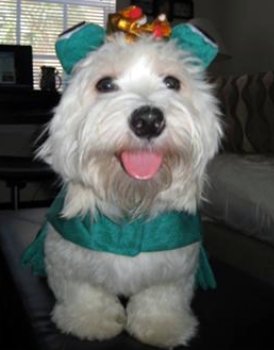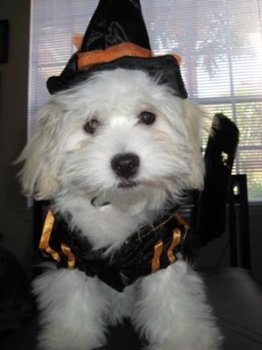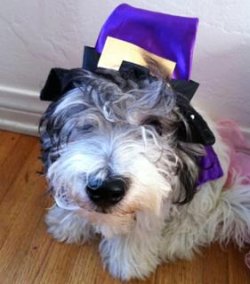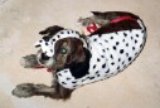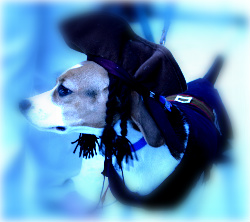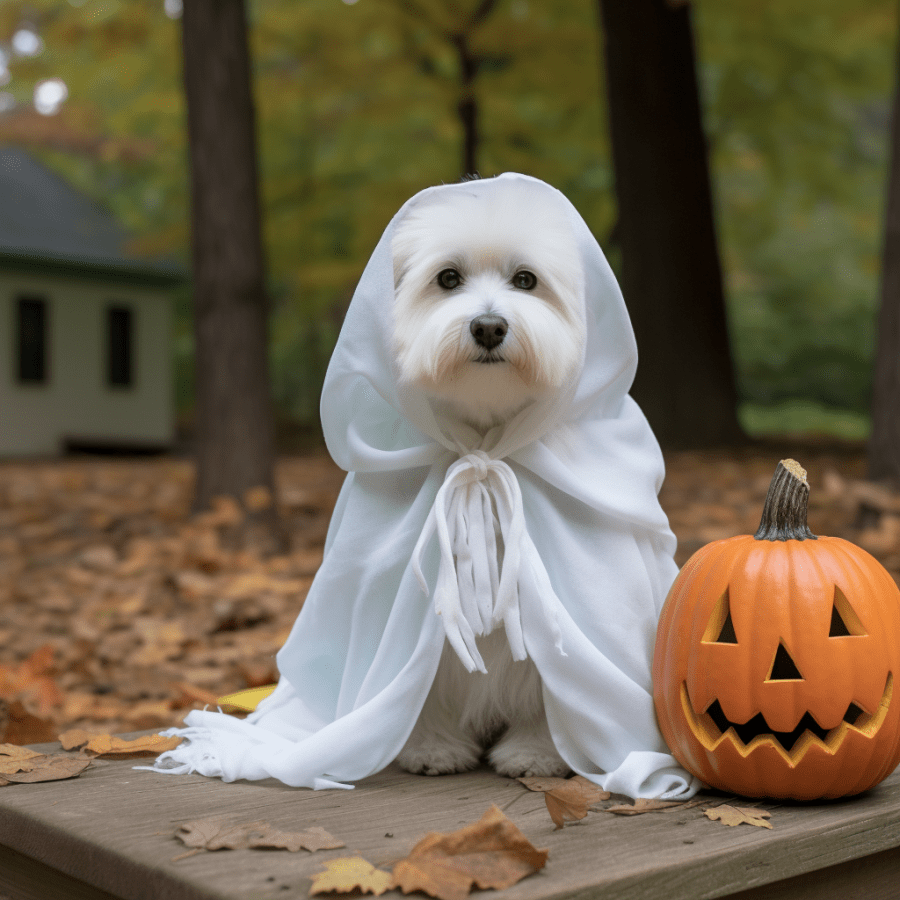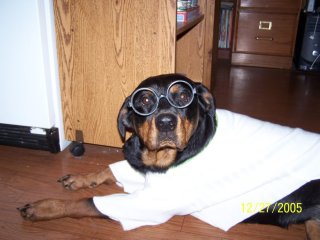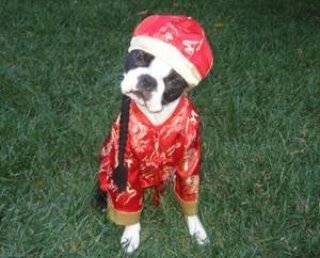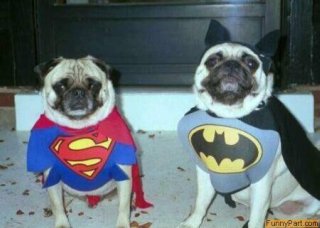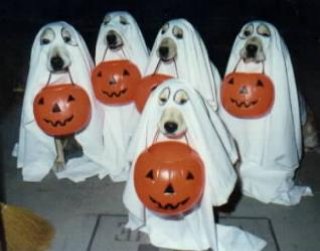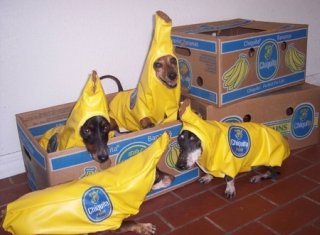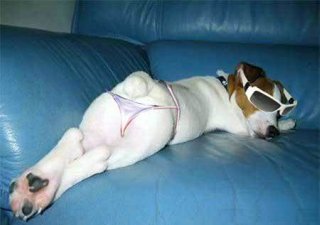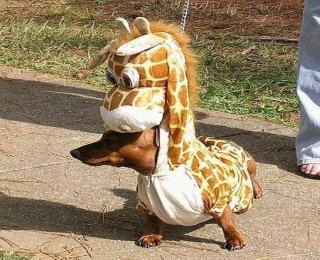 Share your funny dog costume photos


Does your dog like to dress up? Share your photos and stories - just fill out this simple form below and upload one of your favorite pictures. It's easy!
Have A Great Photo you'd Like to Share?
Do you have a funny or cute photo of your dog? Please share it!
What Other Visitors Have Said
Click below to see contributions from other visitors to this page...

My sweet treats Cotton and Candie

The dogs loved wearing their dresses but hated the hats, keeping them on was almost impossible. They went to a few doggie contests but never won. We …