From MUTT to ROYALTY!
by Carol
(Vestal, NY)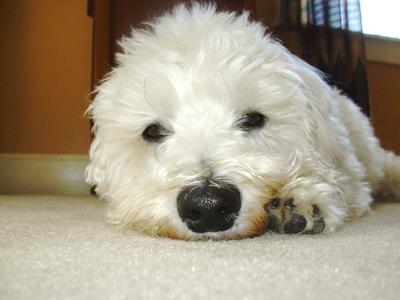 Pogo Relaxing
For 2 years since adopting my little "Pogo" I have been trying to figure out what breed of dog he was. I always knew he was special but I had 20 different people give me 20 different "ideas" of what they thought the breed of my dog was! After a while I just started saying that Pogo was a "Wee-cha-bicho-poo"

We decided to attend a local "Bichon Bash" picnic with over 50 Bichons and their owners, and was told by 3 people that Pogo was not a Bichon/Terrier mix, but a Coton de Tulear! So after some research I am convinced that he is no longer a "Mutt" but a "Royal" dog breed! I still love him just the same....
Copyright© 2008- All Rights Reserved