Dinky has saved my life
by Jayne van der Putten
(The Hague, The Netherlands)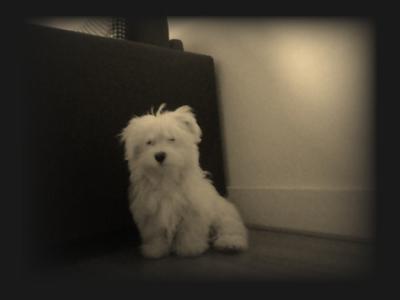 Hi everyone!

My name is Jayne van der Putten (from The Netherlands) and my husband and I have a wonderfull (almost) nine months old Coton: Dinky "Toy". Since he came into our family things are getting better and better.

Because of some serious traumas, I am diagnosed with Post Traumatic Stress Disorder which makes everyday life hard sometimes. At it heaviest, I did not went outside of the house anymore because I was really afraid to do so. However, at a certain point I fellt in my heart it would be a great idea to take a dog again. I grew up with dogs and I love them a lot. My husband and I went looking for a breed that will suit us and that is how we discovered the Coton.I contacted a breeder and...what a luck...she had a litter at that moment. We went to the breeder to see the pups and the parents. There was a little guy who did not wanted a lot of attention. He was not shy, he only looked and tried to ignore us. I knew right away that this would be our Coton!!! Soon after, he decided that he liked us too and came to us, very calm and very clever looking. I will never forget that. Finally, at the age of four months we could welcome him into our home.

From day/night one it went perfect. He felt comfortable right away, was not noisey or whatsoever and was housetrained. From that day on I knew that Dinky and I are a match made in heaven. When we look to eachother we know what we mean, we respect eachother in all ways and.....it turned out that Dinky is a real helping dog. Thanks to this boy I am not afraid anymore to go out on the streets. When I do become afraid or start to panic, Dinky comforts me so I can hold on. I have never had this experience in a dog before. He also likes to bring all kinds of things like my glasses, my mobile telephone a magazine and so on. I did not train him to do that, he started this himself. Now it is a kind of play for the both of us.

Dinky has given my life back in a kind of way. Besides that he is my pride and joy. I love his laid-back attitude, his "smiles", his playfull charactar, his cleverness and the love he gives. In the past I already had dogs, especially when I did lived at my parents' home, like Scottish terriers, Keeshonds and Pomeranians. But with Dinky it is a complete different story....he is really unlike any other dog I had. The Coton is really my breed and sometimes I still cannot believe that one of them really saved my life!!!!

Have a wonderfull day!