Reviews: Coton de Tulear Grooming Books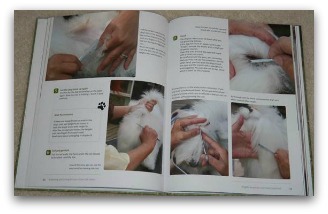 Coton de Tulear grooming books are essential for this breed known for their beautiful long hair. You would think there would be dozens of books to choose from, but that is definitely not the case.
There are many dog grooming books available, but finding one specifically about the Coton is about as rare as the breed.
Fortunately, there are a few Coton de Tulear grooming books that would be a valuable asset to any Coton owner.
I hope you find my reviews below helpful in determining which of these books to choose.
Book Basics: Hard cover, 96 pages, Color
The first of the Coton de Tulear grooming books is actually the newest. Released in 2012, this informative book is written by an experienced breeder and exhibitor and includes beautiful photographs.
Pros:
You will find suggestions for a detailed list of grooming tools and supplies by name brand.


Shows us how to choose the right shampoo for your Coton's hair type (no, they are not all the same).


Instructs us how to solve common grooming problems such as matting, tear stains, and discoloration.


Step-by-step instructions on how to bathe, brush, and blow dry your Coton with great photos to help you visualize what you're reading. You'll also learn how to take care of your dog's eyes, ears, nails, paws, and teeth.


The photos are the best part of this book. They work hand in hand with the grooming instructions to help you get the most out of your grooming experience.


There's a Table of Contents to help you find what you're looking for
Cons:
While there is great information in this book for Cotons with all different coat types (long, short, puppy cut), it's primarily geared toward those dogs with the longer standard type coat. Those who are interested in giving your dogs a puppy cut may be disappointed in the brief one page devoted to that topic.


While this book offers some information on non-grooming issues such as exercise, diet, health problems, and even fertility, it is first and foremost a grooming book. So if you are searching for a comprehensive book about Cotons this may not be your best choice, though for grooming it can't be beat.


This book is only available through the http://www.cotongrooming.com website at this time so you won't find it at your favorite booksellers like Amazon or Barnes and Noble.


It's currently $53 to ship to the US which may be too expensive for some. I have Luc professionally groomed, but still consider this a valuable resource. For those self-grooming your Cotons with the standard cut, this is a must-have book and the tips and tools you will learn are well worth the price of the book.
---
Book Basics: Spiral bound, black and white, 50 pages
The 2nd of the Coton de Tulear grooming books has been a great resource for many of us until recently when it became quite hard to find.
Pros:
Written in easy to follow step-by-step instructions.


Provides list of the best grooming tools to use.


Offers suggestions for products that help with grooming problems such as matting and coat staining.


Gives tips on bathing, blow drying, brushing, ear cleaning, nail clipping, teeth brushing, anal gland expressing, clipping, trimming, and hair cuts.


When the book is available, it is affordable at under $25.


Cons:
The biggest con is that it is often unavailable on major bookseller sites like Amazon or Barnes and Noble (unavailable at the time of this writing).


When it is available, it's not available on the Kindle Nook or other e-readers.


Photos are in black and white and not very clear.


Does not provide help for those interested in grooming Cotons for showing.


While the author seems experienced and knowledgeable, she (I'm assuming it's a woman but don't know for sure) never identifies herself or tells us her credentials.


No index or table of contents to help you find things quickly.
---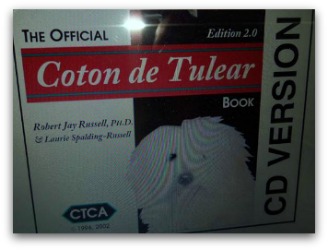 The official Coton de Tulear book by Dr Jay Russell and Laurie Spalding-Russell
Book Basics: CD ROM, Approx. 1100 pages, Color
The last of the Coton de Tulear grooming books is so much more than just a book on dog grooming. This books is a comprehensive reference to the breed and provides information on everything from breeders, health, history, genetics, behavior, showing, and grooming.
Pros:
While the book doesn't only focus on grooming, it has a very detailed grooming section that covers grooming tools, matting, shampoos, coat staining, nail clipping, selecting a groomer, fleas and ticks, and ear cleaning.


It does provide information for those grooming their Cotons for dog shows (but does not provide techniques for haircuts).


Suggests helpful tools and products to help make grooming more successful.


Offers helpful advice for grooming problems such as fleas, ticks, matting, and tear stains.


Table of Contents and search capability online make it easy to find what you're looking for, which is very important in a book with over 1000 pages.


Great value-$53.95 is the current price and though some may see this as a bit pricey, I don't think you'll find a more comprehensive guide about the breed anywhere. I refer to this book often and recommend this for any Coton owner.
Cons:
The book is available on CD only. This may not be a con to some people, but there are times when you don't have a computer available and it would be nice to have a hard copy. Yes, you can print out the pages you need though.


While this book teaches us how to help our Cotons have a healthy coat, those who keep their Cotons in a non-standard shorter cut or puppy cut will not find step-by-step instructions. Though the CTCA breed standard does not allow trimming the Coton coat, they do provide instructions on how to trim above the eyes, the anus, and the foot pads.


This book should be used as a guide and not all of the advice will fit YOUR Coton. For instance, I don't particularly agree with some of their advice on dog food choices.
It's nice to finally have choices in Coton de Tulear grooming books and hopefully the list will continue to grow.
No matter where you get your information on the Coton de Tulear, it's important to remember that there is not just one single definitive source of material about the breed. Sometimes the various sources contradict each other so it's up to us to use our knowledge of our own dogs and our common sense to make decisions. Even in the books I suggest above, there are differences in opinion. For example, the Jespersen/Sydendal book says to NEVER use human shampoo on a Coton, yet the CTCA book says many human shampoos are fine (such as Johnson & Johnson's baby shampoo or even Pantene Pro-V).
You may also find other books that claim to provide info on the Coton, but they are almost always very brief and general in nature. I have one book at home called Ultimate Dog Grooming that I purchased because it had a section on the Coton. What a disappointment. It actually wrote things like "check the Coton's nails, ears and teeth" or "brush the coat carefully" without any detail of how to go about checking or brushing. Unfortunately, this general information without giving any real information is too common when it comes to the Coton. That is why I don't hesitate to recommend the Coton de Tulear grooming books above.
Home | Sitemap | About Me | Contact Me
| Privacy Policy | Disclosure




Copyright© 2008- All Rights Reserved