BABY COTTON GOT SHAVED
by SHERRY
(FLORIDA)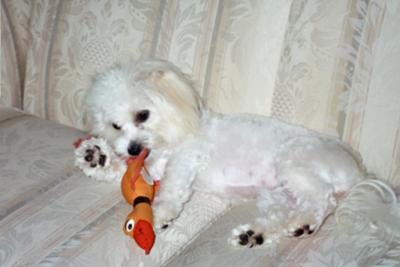 BABY COTTON SHAVED
COTTON'S HAIR HAD GROWN OUT AND WAS JUST BEAUTIFUL, A REAL BRUSHING NIGHTMARE THOUGH WHEN HER BABY HAIR STARTED TO COME OUT. IT TANGLED
SO EASILY AND SHE FOUGHT ME WITH EVERY SWIPE. WE SURVIVED -- AFTER A WHILE AND AFTER BUYING A NEW GROOMING BRUSH IT CHANGED. SHE GOT CALMER AND
IT BECAME EASIER, THEN WE WENT ON VACATION AND WITH THE TRAVELING AND SOCIAL ACTIVITIES I GOT BEHIND IN MY GROOMING, THEN WEATHER TURNED HOT
HOT SO I HAD HER SHAVED. SHE WAS GETTING ALOT OF MATTING IN DIFFERENT PLACES. WHEN I WENT TO PICK HER UP SHE LOOKED LIKE A DIFFERENT DOG. I GREW
TO LIKE IT THOUGH AS IT WAS SO EASY FOR ME, AND MUCH COOLER FOR HER.
SHE IS NOW ALL GROWN OUT AGAIN.
I JUST LOVE THE LONG HAIR LOOK, WHICH IS ONE OF THE MAIN REASONS I WANTED A COTON. SHORT IS SURE EASIER AND MORE PRACTICAL IF YOU DON'T HAVE ALOT
OF TIME. I GROOM HER EACH AM WHILE I DRINK MY MORNING COFFEE AND CATCH UP ON ALL THE TV NEWS. SHE HAS A SPECIAL GROOMING TOY THAT SHE CAN ONLY
PLAY WITH WHILE SHE IS BEING BRUSHED AND WILL ACTUALLY TALK AND GROWL AT ME IF I AM LATE IN GIVING IT TO HER. GOTTA LOVE THIS LITTLE FUR BALL.
WHATEVER THE LOOK, COTONS ARE JUST THE BEST.