What is the best doggie breed pal for my coton?
by Emma rudolph
(Deer park washington)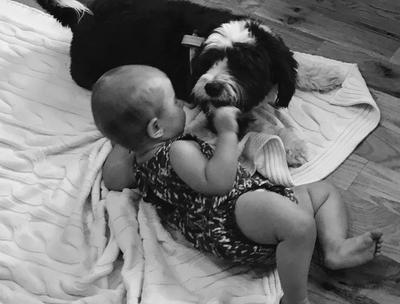 Our coton loves his play days at puppy care. The next day he seems a little depressed or maybe he is exhausted from the day before. Ha ha. He is our joy though he is a big coton at 17 and half pounds and was a bigger coton at 5 months when we got him. He is black and white and so affectionate that when people come over he barks until they give him attention which can be so annoying. He is little over a year and we so love him but thought maybe another dog would be a good playmate for him as we are older doggie parents. When take him to puppy care once a week the helpers say he is the most popular dog. They say he loves the big dogs, but also enjoy whoever will be active with him.


He loves my grand babies!
Join in and write your own page! It's easy to do. How? Simply click here to return to Coton FAQs.
Copyright© 2008- All Rights Reserved