Tips for Coton de Tulear coat problems or coat changes
by Lana
(NYC, USA)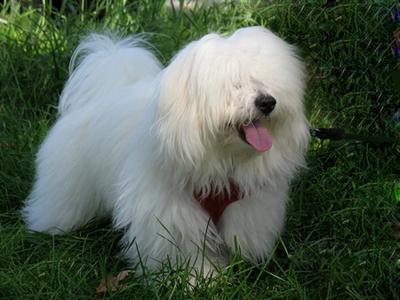 Never in my life have I read so many books about dogs & grooming like I do now. My Cotons are 6 months apart - a boy - Gio & a girl - Natasha. They look spectacular all the time. It takes a lot of love & effort to keep them looking that way. After few unfortunate visits to different professional grooming salons I made a firm decision to learn how to take care of my Cotons myself. Not an easy decision, but they SO worth it.


When it comes to brushing puppies it was a lot of fun. Later on they reach the coat-changing time & I felt like crying while brushing them...with all the best brushes in the world I still was struggling to do it right. I could not bare the thought of shaving them or cutting their beautiful coat to a short one.
The key is to keep the coat clean."A healthy coat is a clean coat," -Sandra Bearden-. I cannot stress it enough. I did not want to dry out the coat of my dogs & was afraid to wash them too often. My mistake!
The trick is to see when your dog is starting to develop mats - it's a warning for you - get him/her washed, do not use too much shampoo(to use 1/2 shampoo + 1/2 water mixed in the bottle, spray it on the moist coat), never put shampoo directly on the dog's skin.
Isle of Dogs - No. 10 Evening Primrose Oil Shampoo or No. 16 White Coat Evening Primrose are great!
Rinse a few times & spray your favorite coat conditioner, (1/2water+1/2 conditioner mixed)- make it feel like a mist. I use Isle of Dogs - No. 51 Heavy Management Conditioner. Rinse many times!
Before using your favorite plushy towel - spray Chris Cristensen - "Ice on Ice Concentrate" - also mixed with water as directed on the bottle. Do not rinse!
Find professional towels if you can - they absorb more water. Let the long coat dry a little.
Brushing is next with good demating spray:
"The Stuff" - Silicon Dog Conditioner and Detangler
Kelco "DeMat" Dog Grooming Spray
CHERRY KNOLL "COAT DRESSING" - lately my favorite one!
Grooming can be Fun!
Lots of thanks to Sandra Bearden website, I learned so much. Here is the link:
http://www.cotondetulearbreedersclub.com/grooming.html
More detail to deal with coat change:
http://www.americancotons.com/files/File/The%20Dreaded%20Coat%20Change.pdf