Thinking about getting a Coton de Tulear?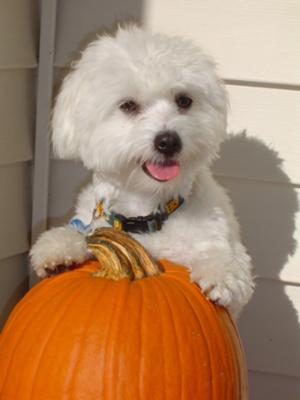 Casper and his pumpkin :o)
I used sites like this when I was agonizing over the decision to adopt a Coton de Tulear- so I guess this is to all of you who are thinking of getting a Coton-- my dog is the most WONDERFUL animal I've ever met.

Be careful to go with a reputable breeder- and socialize early on- Casper was afraid of EVERYTHING when I got him- after puppy classes and lots of friends and family interaction he is much more confident and calm. He was very easy to train- he loves doing tricks. His coat always smells wonderful (how is this possible?? still a mystery to me...) I do keep him clipped short as he gets too warm with the longer hair.

He follows me around and is eager to do anything I ask him to do- even if its something he hates (baths!). I work all day and he stays in a large crate while I am gone-- I was very concerned about separation anxiety, but he has done great.

Hope this helps you make a decision- I know I used others advice A LOT when I 1st got my Coton.


Copyright© 2008- All Rights Reserved