The Many Faces of Radar
by Michelle
(Tennessee)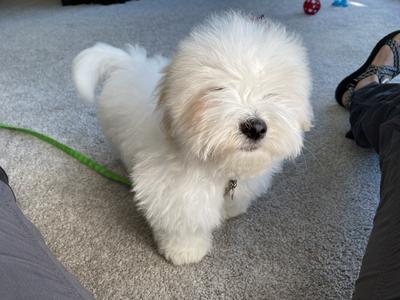 Puppy Face
We have had the privilege of living with our boy, Radar, for over two years now. At first I wanted to keep his coat full and never clip or even trim it. We made it all the way to his second birthday. Of course we have some fun photos of clean face, dirty face, leaf face, bed head, etc. :)

But then it seemed all the grooming was stressing our relationship a bit, plus I needed to plan for an international trip during which Radar would stay with a pet sitter. I knew I couldn't expect the sitter to do the brushing and de-matting while I'm gone, so I decided to clip him. He'd never been to a groomer before either, so I tried to get him with a groomer, but it didn't work out. So I learned as much as I could about clipping a drop coat and particularly a coton. I was so nervous, but we did fine, and now as I maintain the shorter coat I actually find it kind of fun. Radar seems to enjoy it too. And we don't have to spend SO much time brushing. I still brush him every single day, but it goes much more quickly. I do miss his long coat, and I choose to keep his face, head, and ears pretty long.

So now he has a new look, and each time I trim his face it looks a little different. After all, I'm not a professional groomer! That's okay. He couldn't be anything but adorable.
Copyright© 2008- All Rights Reserved