Slipper stealer Spike...
by Sandra
(Edinburgh, Scotland)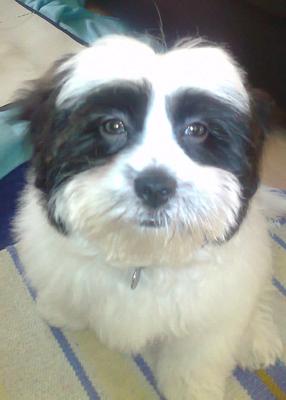 The brushed look never lasts for long.....
Hi, my name is Spike and I'm almost 16 weeks old. I'm a coton cross. My dad was a coton and my mum was a shih tzu. After some debating my mum and dad called me Spike on account on my feisty personality and the fact my hair never sits flat for long....no matter how much they brush me.


I came to live in Edinburgh in Scotland when I was 9 weeks old (from down in England). I love my mummy so much because she gives me lots of cuddles, always remembers how much I love my food and takes me for lots of walks too. She has bought me lots and lots of toys (to my daddy's dismay..) but my favourite is probably an old shoe of mummy's which I love to chew and chew although my kong toy is fun too especially with my special puppy peanut butter in it.
I love spending "boy" time with my daddy though. He is funny and kicks my treat ball around the garden so I can chase it. The treats fall out of it and so I get to have fun and treats at the same time. Yum! I love getting my tummy tickled and so I lie on my back alot.
I live at a bed and breakfast in Edinburgh with my mummy and daddy. It's great fun because I always have company and I get to meet some of the guests who sometimes bring their own dog to our pet friendly guest house. I have a nice garden to run around in and I like to jump in and out all the flower pots and eat the grass. I sleep alot of course, being a puppy. Sometimes I don't mean to because there is so much puppy fun to pack into each day. My mummy bought me a lovely kennel to sleep in. I sleep beside mummy and daddy's bed and I have a nice cushion and fur blanket in my kennel too. I get a heated toy to keep me company at night and my comforter bone. My bone makes a nice squeeky noise but I am not allowed to squeek it at night although sometimes I do to be naughty.
My mummy and daddy are trying to do everything right by giving me lots of affection but also discipline too. I can do sit, stay, fetch and drop now. I do beg for food though....human food is so yummy and ocassionally I do manage to manipulate my mummy although daddy gives her into trouble. Mostly though I am on delicious puppy food with some puppy treats too. I get brushed everyday and my eyes and ears get done regularly too. I always get a treat after my grooming and so I am happy to get it done. It is a nice bonding time with my mummy. I have my very own toothbrush which is excellent for chewing and dog toothpaste which I suck regularly.
My mummy and daddy seem to really love me although they roll their eyes when I run away with their slippers. They have started putting them up high but I can stand on my back legs and still steal them! When I get caught I give them my guilty, sorry look and they don't stay cross for long.
Anyway I must go now. We are off to the park opposite our guesthouse. I hope you liked hearing about my life with my new mummy and daddy. I hope I am allowed in your gang since I am only a half coton. Lots of Luv Spike, aged 15 weeks, Edinburgh