Puts the breaks on when scared.
by Julia
(Colorado)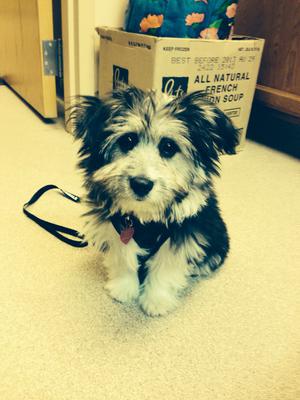 Teddy socializing at the Vet's Office.
My 6 1/2 month old male coton, Teddy is terrified to ride in the car. As we are approaching the car he puts the brakes on at about 20 feet away. He won't budge and I have to pick him up. I've tried a car seat, letting him lay on the floor behind my driver seat and now he rides in the crate in the back of my Honda CRV.


I want to take him everywhere with me and when he rides in the car we go to fun places like dog park, Petsmart, friends homes, etc. He shows anxiety by shutting down. He gets very quiet, puts his head down and pants and drools. He doesn't cry, he doesn't bark, he just gets very quiet. I've learned to watch his body language and I can read the signs of when he's feeling overwhelmed.
That being said, herein lies my problem. When he shuts down he is not motivated by treats, toys or affection. I know I need to begin the training before he shuts down and it will take time and patience. But does anybody have any other suggestions? I've tried everything I can think of. We are at a standstill.
Thanks so much, Julia