Puppy and Older Dog Training Site
by Julia
(Colorado)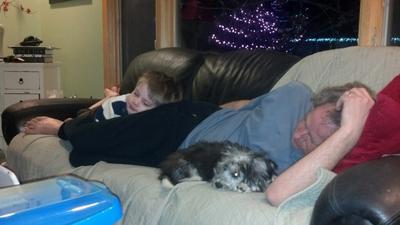 Teddy, my husband and grandson relaxing together on the couch.
I have found a tremendous training resource that I'd like to share.


There is a YouTube site called: Kikopup that has a large amount of video training tips for free. The trainer is a woman and she breaks down each training task into small steps.
With my puppy entering into his teenage stage I have found her training tools invaluable. I was feeling overwhelmed but the Kikopup site has shifted my feelings about training from discouraging to fun!
Please check out her site and let me know what you think. What did you find most helpful and I'd love to hear your success stories!!!
Julia & Teddy
Copyright© 2008- All Rights Reserved