Our Rescued Coton de Tulear
by DeMarie Rossi
(Murreita, CA)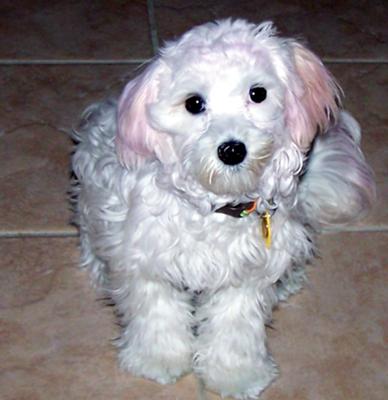 BeBe is in the Pink!
This is our beloved Coton BeBe. We recently lost our little rescue Peek, China, after loving her for 14 years. Our house did not feel like a home without a furry family member. So off to Animal Friends of the Valley - where BeBe was waiting for us!


She was listed as a Maltese, but having loved and owned a Coton named Jacques over ten years ago - I had a feeling she had been "mislabeled". I took her home, and our vet confirmed - a Coton de Tulear she is. She is such a joy to have in the home. She has gained weight (you could feel all her bones when she arrived). She is about 10 months old and of course she is extremely smart - we love our new little BeBe! We "pinked" her out in this photo - no dyes were used - just children's washable chalk.
Copyright© 2008- All Rights Reserved