Our One Eyed Willy, the Pirate Coton
by Sarah
(St. Louis)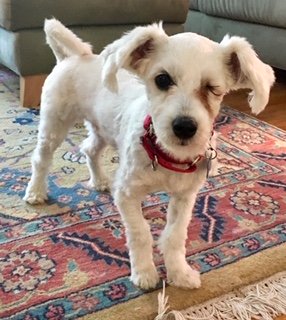 Adoption day
We adopted Willy from a rescue adoption event at a pet store. We were looking for a terrier mix like our beloved Lillie, who had died six months before. One of the volunteers passed a scrawny little white dog with an odd looking eye to my wife and said, "hold this one." Well that dog's feet didn't touch the floor again until we walked out of the store with him. Even though he'd been shaved close to the skin, we'd never felt such soft fur. He was so calm and just relaxed into our arms. Willy's foster mom explained he was a Coton de Tulear from a breeder. He was born with a micro ophthalmic eye (a very small undeveloped blind eye). We're both retired from the optometric field- how perfect. We did a quick google search about the breed and fell in love.

We've had Willy for four months now. He's been such a wonderful addition to our family. He's done great with obedience training. we're hoping he may be a therapy dog when he gets a year older. The microophalmic eye doesn't bother him though it tends to tear a lot and stains his fur. Eye wipes help somewhat.

Like many Cotons, he doesn't like to be left alone, but he's not destructive to anything but paper left In his reach.

Our young neighbor explained that One Eyed Willy was a pirate in the movie Goonies.
Copyright© 2008- All Rights Reserved