My rescue dogs Raggy and Piccolo
by Chrissie
(Lincolnshire, UK)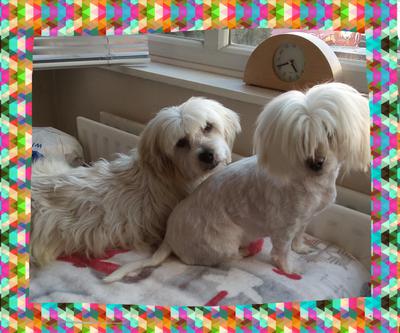 Raggy and Piccolo have been with us for 5 weeks now. We rescued them as they retired bedding dogs.


Family life is new for them. We have so much love for them. Always by each others sides, love going to the park together, sleeping and eating together.
Raggy is a Coton X Lharso Apso who has given birth to four puppies, sadly only two survived. Breeders, previous owners were not aware she was pregnant, apparently 14 year old Coton dog did it.
They all doing fine, but it is all very new to us.
Raggy is a wonderful mummy and Piccolo is at a loss, sleeping, eating and walking in park alone.
We not sure what to do with the puppies.... Both my daughters wish keep them and already picking names.
I have never heard of Coton dogs before, must say they are gorgeous, loveable dogs.
They do not understand any commands, sit, stay, they do not play etc. But are getting used to us and our house, life etc.