My rescue dog Scout
by Dorothy
(St. Louis, MO)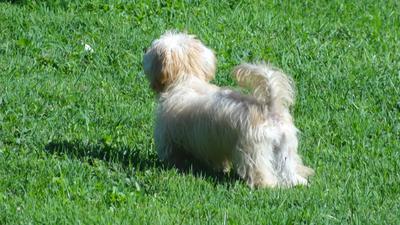 I walked into the APA one morning after three months of sadness over the death of my 15 year old Wheaten Terrier. On the way to the Animal Protective Association, I asked my deceased Wheaten(Princess) to help me find the right dog.

My new dog Scout was the third dog I saw there and it was instant recognition that he was the One. He was Whimsical, silly, intelligent and very friendly and much the same color as Princess. He was Much smaller and they had named him Teddy. As I left with him in my arms I heard over the PA system: "Teddy is leaving the building."

I was told he was seven months old but he was very puppyish. Two weeks later he started losing his baby teeth. I believe he is around five months old and I have had him for one month during which he gained around two pounds. The vet says he is in great physical condition. He is a wonderful dog, the light of my life. Everybody falls in love with him

He fetches, he herds birds, people and even the collie next door and he meditates with me and he curls up on my shoulder like a cat while I am in my Lazy-Boy watching TV. I got exactly the right dog.
Copyright© 2008- All Rights Reserved