My Katie
by Brenda
(Columbus, GA)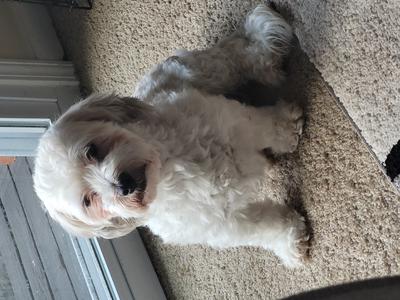 My Katie that I just rescued on the 7th of February was a breeder. I'm not quite sure how many litters she had, but it was a lot. She's only between 5 and 6. The shelter got her last June.

It's sad to watch this little girl because everything is new to her. She's been kept away from the world. She comes to me cautiously. If she hears a noise, it spooks her. When she eats, she inhales it. She stops and looks around, I guess to see if anyone or a dog is coming. She's crate trained, but not house trained, so I'm in the process of trying to do this.

She needs a lot of patience from me, which, thanks to my sweet Rosie, I learned. Rosie had Doggy Dementia. It was sad to watch her go from a happy little girl to one that didn't even know who she was. I'm going to take care of Katie forever. I want her to become the happy little dog she is supposed to be.
Copyright© 2008- All Rights Reserved