My Blessing -- Levi Josiah
by Jan
(Raleigh, NC)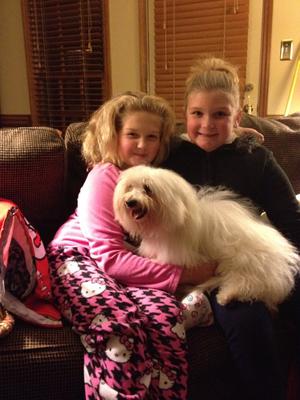 Levi has been with me for six weeks. He is 2.5 yrs. and I could not have designed or asked for a more perfect dog. Sweet, loving, calm (except when I have been away for a *such a long time* in dog minutes). He loves to be groomed and lays there, his eyes almost about shut and goes into a meditative state!

When he hears my keys rattle, he is at the door so he can ride in the car. From the first time we met, we were both smitten. What a wonderful breed, the Coton.

Picture is Levi with my two granddaughters. They are smitten with him too and vice versa.
Copyright© 2008- All Rights Reserved