Life Saving Coton!
by Kris McCoy
(Grand Rapids, MI)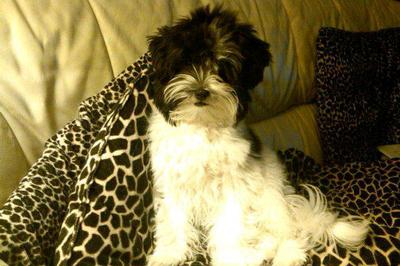 I Spy Lexicon of Love
My first Coton was a one year old female when I realized how true it is that Cotons are "ratters". Lexi took to protecting my 5 acres of property by chasing all of the bunnies and squirrels away. She even stomps her tiny foot near rabbit holes until they pop out and run for safety. Lexi has never caught anything; she just enjoys the chase.

This past summer we had some very hot dry weather. With a week's worth of 90 degree days, I was even feeling the heat inside my air conditioned home.

My children are very careful with entering and exiting our home but unfortunately our indoor only cat ran past my youngest son and disappeared outside. We looked for days and could not find "Goober". Goober and Lexi are the best of friends. They roll around playing like two puppies on a daily basis!

We put Goober's beds outside, as well as food and water and it all went untouched. Fearing coyotes got him, I was trying to come up with what to tell my kids.

On day 4, I let my Coton outside at 6:30 in the morning. After she piddled, she refused to come back inside. She kept sniffing the wood boards of my deck. She'd take her little tiny paw and scratch the deck. Having had a family of opposums living under there, I figured they moved back in or perhaps this time, a skunk or two. Lexi was getting mad and scratched harder and faster and kept whining.

I went over and looked between the deck boards and my stomach turned when I saw the white stripe of a skunk! I tried to grab Lexi so we could escape from being sprayed by the skunk. As I leaned down to scoop Lexi up into my arms, the skunk moved and I noticed black spots on a white coat!

It was Goober our cat and he was stuck under my deck! We removed several of the boards and rescued Goober. Goober was vet checked and all was fine, except for dehydration. Goober would have died under my deck if Lexi had not "found" him with her incredible nose!

Copyright© 2008- All Rights Reserved