Issues about crating your dog and leaving them alone
by Iris Miller
(Bristol,CT USA)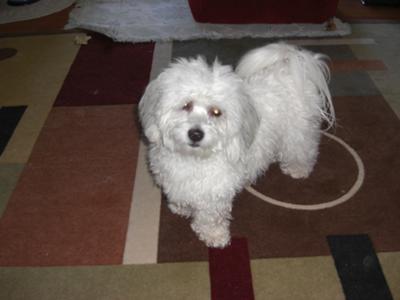 Gotta love me
I have written much about Tuffy here at our Coton de Tulear website. Today I read one story about a new Coton owner who has been successful with crating her Coton.


I think my fear of not coming back home in a reasonable amount of time to let him out of the crate will traumatize my dog, and is probably why I have not been successful with crating my dog.
I am so blessed and grateful that my dog is so loving and forgiving. I grew up with and raised my kids with "outdoor" dogs, and never fully experienced caring for a companion or lap dog.(exception, another story about "Ziggy" the Pomeranian another time).
Tuffy has separation anxiety because he was so young (barely six weeks old) when I got him. Coming from a breeder with a house full of small children and dogs Tuffy went to almost instant companionship deprivation. I did take a few days off work to bond with him and had a wheelchair accessible bathroom, large enough to be a large kennel. I had set up food and water near the open door with a see through gate, a potty paper at the opposite end of the room, a toy basket with toys and an open door crate. There was plenty of room for him to run around in there and light and air with the open door.
The breeder assured me he would be fine in an apartment. I believed he was doing well. I took him out and played with him every night and walked him on weekends when I was off work. My neighbors never complained, and only on the day I was moving out (four months later) did my next door neighbor confess that the puppy carried on crying incessantly. My heart sank.
I hope anyone who is thinking of getting a Coton, or any other puppy will realize these dear social animals are like human babies, and will suffer from deprivation if they are left alone without loving comfort and attention. They are not "just dogs", they are living breathing loving beings.
If I had know better at the time I may have either reconsidered getting a dog, and or first recruit some day care help before getting a dog. Tuffy and I now live in a house with family and I do not have a job to go to, just spending all my time with him, we go for several walks a day (if the weather permits), or else romping and playing in the house.