I have a new toy!
by Bill James
(Midwest City, OK)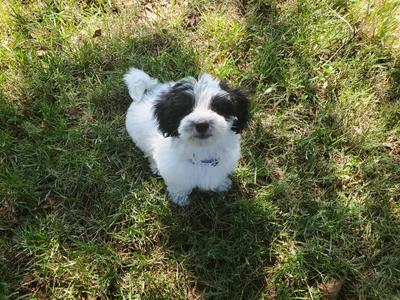 Franky Cooper at 12 weeks
I first became acquainted with the Coton through a friend. I had just lost my pet and on the fence in acquiring another dog. In meeting my friend's Coton, I fell in love with the breed and immediately started a search to acquire one. Fortunately, I found a local breeder and found Franky Cooper. He is adorable and fitting well into my life. He love to play fetch. He is friendly and playful to both people and pets. The only animal he has yet to meet is a cat. He thinks horses are great. Franky inherited a great number of squeaky and plush toys from his deceased siblings. Here are a few pictures of a young Franky Cooper.
Join in and write your own page! It's easy to do. How? Simply click here to return to Coton de Tulear Pictures.
Copyright© 2008- All Rights Reserved