Hurricane Sandy in Staten Island - Cotons and Smiles
by Regina, Steve, BB and Maximus
(Staten Island, NY)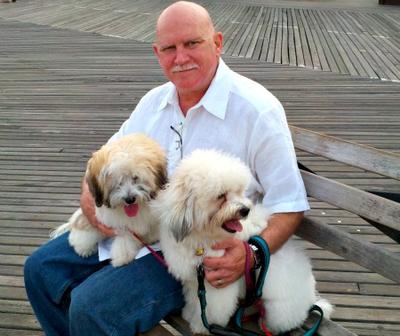 What can make people smile, even in the midst of a tragedy? A coton de tulear, of course! Today we brought BB and Maximus to the area near the boardwalk where we take them in the summer for long walks and ice cream. This is the part of Staten Island being shown on all the news stations that has massive deterioration from the storm. We are hoping that the area will be back to life soon, but in the meantime, as always, the boys brought smiles to people's faces amongst so many tears. BB and Max also donated dog food and treats for their friends. We all know how our breed makes every one happy and today was one of those days where smiles were hard to come by. They made us proud. They were good boys, and didn't even bark.

We also learned that the Red Cross is not helping our hometown as much as needed. Rather than donate to the Red Cross we found the following info through the Staten Island Advance, our local newspaper -- *Staten Island Giving Circle is accepting gift cards (Target, Home Depot, ShopRite) or monetary donations through: www.statenislandgivingcircle.com. So if you have any of those old gift cards tucked away, think of our hometown.. BB and Maximus will be ever so grateful. In the meantime, we will continue to help people smile by bringing the boys for visits.

Looking forward to our long walks again come summer!





Copyright© 2008- All Rights Reserved