How can I stop aggressive behavior?
I rescued a two year old coton (Molly) from a shelter in October. She was aggressive with my one year old coton dachshund mix (Addi) at first but we corrected the behavior, for the most part. She still occasionally does a low growl but I notice it's mostly when she doesn't want Addi around for whatever reason.


Lately she's been snapping at my six year old when he tries to love on her. We've gotten onto him for getting in her face and are trying to break him of that but he just wants to love her. We get onto her when she does it and she immediately seems sorry but I don't want her to do it at all. I'm worried she may be too old to break this behavior but don't know how to start if not. Suggestions?
Is this dominance or fear behavior?
by Cesar
(USA)
Hello, my name is Cesar. We recently got a coton from a friend. She's 8 months old and is a female. When she first got to our home she was hiding in a corner of the house - I guess she wasn't happy with the move. Now she moves around like nothing we've had her 5 days now.

I'm having a problem with her we are a family of 5 all adults and every time she sees me she growls and then starts to bark at me. She only does this to me for some reason. Once I start petting her she'll be ok then she'll start growling at me again. She especially does this when she is with someone else like my mom or dad.

Do you think this is dominant behavior or is she afraid of me?

Aggression
by Nichole
(Jacksonville, Fl)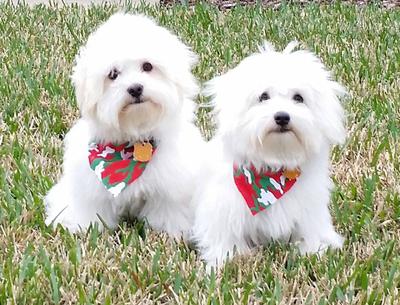 We have 2 male Cotons, Augie & Olaf. We got them from the same breeder but different litters. They are a week a part in age. We got 2 so they wouldn't be alone while we are at work. They have been with us since they were 8 weeks old. They are now 8 months old.

They have always played together and are practically inseparable. However, over the past month Olaf has become very aggressive towards Augie. They still play, but Olaf will attack Augie. It started when we would bring them in from potty time in the back yard. They get a treat when we call them to come in. After each of them get there treat Olaf attacks. Also, if we pick Olaf up, if he sees Augie he will snarl, show his teeth and bark aggressively. If we put him down he will attack.

After he calms down Augie always approaches him, almost like he is saying he is sorry....sometimes Olaf will accept and sometimes he will attack again. Nothing has changed in the their schedule, and we are at a loss for how to correct his behavior.

Any advice?
Coton de Tulear behavior
by Vickie
(England)
MY Coton de Tuelar is a very good dog, he is smart, beautiful and just a joy to have around. But, I am having a few problems with him. When My 2 young children walk across the room he attacks their feet. I can not get him to stop this. Also when I take him outside is eats stones and digs in the yard and eat sticks. I am affaid he is going to damage himself. How do I get him to stop this bad behavoir?
Why is my Coton aggressive?
by Karen
(Plainville, MA)
After much research, I bought a Coton when she was 10 weeks old. She is now 10 months old. She is really smart and was started in training classes as soon as I got her. She excelled at every level. Coco aggressively barks at children, adults and other dogs and has been doing this since she was 5 months old. I had a dog behaviorist recently come to the house to witness this behavior and Coco tried to attack her. Her growling and barking was scary.

I have another Coton that is a classic Coton. Very sweet. They get along beautifully. I take her to work with me everyday but this "attack mode" that she goes into when people enter my office is no longer safe. Has anyone ever heard of a Coton having this type of personality? I'm really baffled.

Daytime vs nighttime behavior.
by paula
(long island, ny)
Our 8 month old coton is very playful during the day. At night she becomes aggressive and growls. She has even bitten my hand. What is going on?
Copyright© 2008- All Rights Reserved