Have you tried REVOLUTION on your Coton de Tulear?
by Iris Miller
(Bristol,CT USA)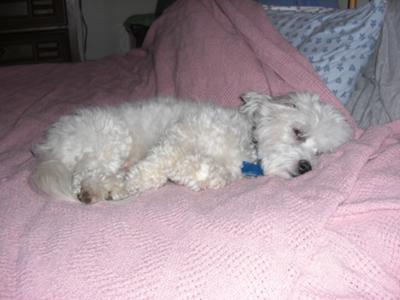 Tuffy was so sick!
Last week I wrote on FaceBook,


POOR TUFFY, IS SICK AS A DOG!(YES, I KNOW HE'S A DOG). HE GOT AN ALLERGIC REACTION TO K-9 ADVANTIX, GOT CORTISONE SHOT FROM THE VET, GOT PREDNISONE TO TAKE HOME AND GIVE 2X DAY, GOT SICK FROM THE PREDNISONE, VET SAID GIVE HIM PEPCID WITH IT, HE THREW HIS GUTS UP AND FEELS BAD.HE IS LETHARGIC, AND MISERABLE, I AM TOO.
Thank goodness for Woolite Oxy Deep Power Shot - That stuff is magic! It cleans and deodorized instantly, amazingly! No stain has a chance, even old ones! I buy two cans at a time, it great for doggy messes and people messes.
Not giving Tuffy any more medicine, I think it is poisoning him, going to see if he fares better without the drugs.(I sent and email to the Vet, don't expect a reply until after the weekend, so going with my gut instinct), knowing my dog, and family advice. OY, I need a VACATION!!!
Today, Wed. 5/4/11
I had switched to Frontline Plus over a year ago, but thought maybe I should try something "stronger", my mistake. The Vet explained it is a different chemical, not any stronger, just different.(and not to use it again).
It took a week, Tuffy is still recovering and has an appetite. Today he wanted to play, so I know he's getting back to normal. He still has some redness and scabbing on the K-9 Advantix application area where it burned his skin. The Vet shaved the area to let the air heal it and the hair is starting to grow back. Tuffy is still scratching the area, but not very much. He is sleeping a lot, letting his body heal.
A Vet called me back. She recommended switching to an all-in-one monthly application that kills fleas, ticks, ear mite and intestinal worms that is used on sensitive herding dogs, it is called "Revolution".
Has anyone tried this on their Coton? If so, does it work? Found any fleas or ticks or mites on them? Any itching or reactions to this medication?
Looking forward to your advice.
love, Iris and Tuffy