Happy Holidays from the boys!
by Diane
(Centereach, NY)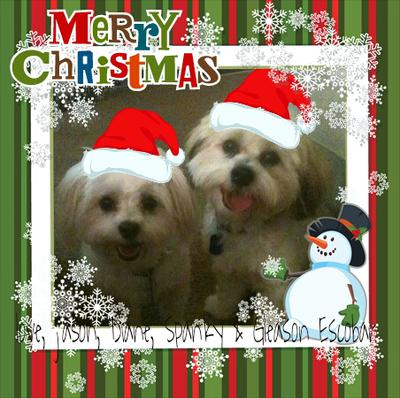 Merry Merry!
Spanky & Gleason wanted to wish everyone a Happy Holiday and new year! They are enjoying the season. Spanky turned 3 years old on the 18th of this month (Dec) and Gleason will be 1 yr old on Jan 18th. They are expecting Santa will bring them lots of toys, treats and other essentials for Christmas. (and their assumptions are correct, the closet is full with all sorts of goodies!). Also, Gleason, I am proud to say, is LI Dog's "dog of the month". Such a proud mamma I am! (copy and paste this link into your browser)

http://lidog.org/gleason_bio.htm

Feel free to visit and like them on FB by searching "Spanky Escobar" or by copying and pasting this link into your browser.

https://www.facebook.com/pages/Spanky-Escobar/123107431104024

Wishing everyone a joyful season and a happy healthy 2014!
Copyright© 2008- All Rights Reserved