Fleas and parasite protection: what do you think is the best protective method?
by Sevi
(Geneva,Switzerland)
Our Coton de Tulear puppy, Tyche, is wearing an antiparasite collar provided to us by the breeder.


I would like to know what you are using for your dogs, the ambules or the collars for their protection over fleas and parasites?
Nexgard Flea/tick Treatment
by Jennifer
(PA)
My vet is really pushing Nexgard -- the latest product on the market for flea/tick treatment in dogs. It's a chewable pill made by Frontline that contains Afoxolaner. Vet wants me to give my Coton once a month for flea/tick prevention. I am so anti-pills so I'm worried about giving her this. She is 9 lbs. My Coton absolutely hates any of the greasy stuff such as Frontline and even the all natural product, Alzoo, that comes from France. She hates all the topical stuff. Thus, has anyone had experience with Nexgard?
How to get rid of ticks on my dog?
by Anas
(Karachi,Sindh,Pakistan)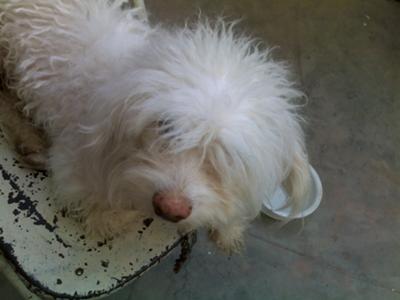 My dog is 2 years old. He's fit and healthy. The only problem that I'm facing here is about his ticks problem. Can you recommend me something good and useful for him so that I can get rid of those ticks on my dog. And let me tell you those ticks are everywhere on his body and in a very large numbers -on his ears, back, underarms everywhere.

I live in Pakistan, Karachi so please keep in mind that you tell me a product that is available here.
thanks in advance

Jasper had a bad reaction to a monthly Flea killer medication
by Leslie
( San Francisco Bay Area)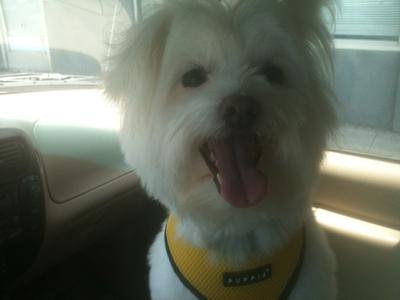 Jasper ready for summer
2 days i go a gave Jasper his third month of Vectra D for dogs. 18 hours after, he had difficulty walking, he became lethargic, hakey and did not want to eat or drink. I have been finger feeding him water for over 28 hours. He has been held almost constantly and he is starting to get better. My vet has heard of bad reactions but they have not been as bad neurological effects.

Lessons learned- 1)I will not use this brand flea killer again. i will see what all natural sources there are. We had seen 2 fleas on Jasper so I gave him the dose a week early
2) My sister had been holding him whenI got home and he was licking his mouth.He was super thirsty but would she could not get him to drink. I foled a good quality paper napkin in water and squeezed it and he licked it for him to get water and this really helped.
3) Call the Vet right away. I was going to call her the next day if he was not better. Well he seems better but he is just now starting to eat.
4) I plan to call the drug company and report an adverse drug reaction. I went on line and little white dogs have more issues with this medication that I could see.

Anyhow, I thought it was pretty harmless. I am not sure if the issue is because of the absorption through his neck or if he somehow got his foot up there and thenlicked his foot to get poisioned.

Have any of you had bad experiences with flea killers? I might be able to go more gentle as I do n ot think that I live in a bad flea area but I could be totally wrong.
What do you use on your little white bundles of joy? I hate to see him with his eyes so sad right now.
Love Leslie and Jasper
Copyright© 2008- All Rights Reserved