feeding 6 months old coton how many times a day?
by Morticia93
(Montenegro)
Do i need to feed my coton 3 times or just one time on a day? My dog ​​is 6 months old.
Until what year or month should dog stop eating 3 times a day?
by Morticia93
(Montenegro)
My coton is 5 months old and i don't know when i need to stop giving him food 3 times a day. When should eat twice a day?
How often does your coton de tulear eat?
My Coton de Tulear has always been a grazer and seems to eat more in the evening sometimes as late as 10pm. He also wakes up most nights between 2-4am and sometimes goes outside to the bathroom. Should I be taking his food away at a certain time?
How much should a 5 month old coton de tulear eat?
How much should I feed my five month old coton de tulear?
When can I start feeding puppy 2 times a day instead of 3?
by Charlotte
(England, uk)
My lil Lola is 20 weeks and ATM I feed get 3 times a day. She's not a big eater and rarely scoffs a whole meal. When can I drop a meal and just feed her breakfast and lunch?

Any thanks Coton lovers

From Charlotte & Lola xxx
I would like to know how much to feed my Coton de Tulear?
We just got him and he is a year old. Should I free feed or set a specific feeding time?
How often should I feed my coton de tulear?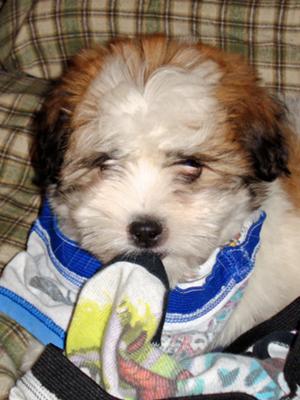 We were told by our breeder that our coton de tulear (Abby) should be fed once a day. As such we feed her in the morning and leave the food out for the rest of the day. She seems to be a grazer and will (if we don't remove the food by around 7 p.m.) snack late and then need to go outside at around 2 or 3 a.m.

Is there a better way to regulate her food intake so as to avoid the middle of the night "poop" runs?
How many meals should I feed my Coton de Tulear puppy?
by Ana Claudia
(Brazil)
I need some help. Sophie is now 6 months old, and we have doubts about how many meals a day she should have. She eats her combination of her fat free gound beef mixed with kibble at 7 am, 12:30 and 6:30 pm. (some treats or fruits in between).

In the evening meal she doesn't eat so much. So, should I perhaps feed her twice a day?

Thanks.


Am I over feeding my Coton de Tulear?
by Dee
(Nassau, NY)
I feed my just about 6 month old Coton de Tulear 2x daily (morning and night) and approximately 3-4 treats daily. One of the treats I give him is on the larger side (apple/chicken), the others are dental chews and small bites or biscuits.

He used to be a finicky eater, but now I find him eating his meals in full plus the treats (he's approx. 7 lbs now). He's doing great, walks 3 x daily and lots of play in between - dog park on weekends (sometimes for 3 hrs) and plenty of people/dog contact daily on our walks so always exercising.

I just don't know if I'm over feeding him or not. How can you tell?
How much food should they eat
by Heather
(Toledo, OH)
I recently started Jack out on a home cooked and gluten free diet. How much food should he be eating?
4 month old how often do I feed
by Shireen
(Northampton )
How often and how much should I feed my 4 month old Coton De Tulear puppy?
Copyright© 2008- All Rights Reserved