Enjoying Costa Rica with my long hair.
by Liz
(Half Moon Bay, California & Nosara Costa Rica)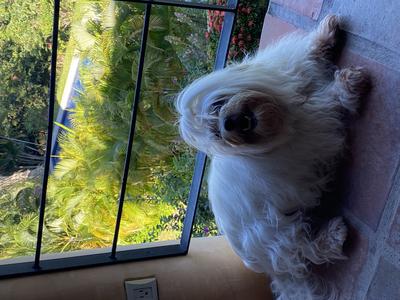 My name is Surf. I normally live on the Northern California coast on the beach with my human partner. I will be 12yrs old February and have never had my hair cut only sanitary trims. My partner brushes be daily and sometimes more than I would prefer. This year my partner decided that she wasn't leaving me behind any longer as she traveled to her other home in Costa Rica. Surf gets to go travel on Alaska Airlines in cargo. No problem. I caught up in my sleep and was quite comfortable. When I arrived in Costa Rica that hot humid weather took a few days to adjust to but I did just fine. I have been here for other four months and met all the locals and can tell you the best places to eat and enjoy a run on the beach. I even went Christmas shopping last week and caused such a commotion when it appeared everyone wanted to touch my COTON hair. For those of you that have ever wondered how COTON's do in hot humid weather, I am telling you it's been a fun adventure even getting drenched in the tropical rains. I think all the little bugs crazy since they can't seem to penetrate my thick hair. Returning to the California coast next week. I look forward to coming back since I have grown very fond of my Costa Rica home.Enjoying the "Pura Vida".
Join in and write your own page! It's easy to do. How? Simply click here to return to Coton de Tulear Pictures.
Copyright© 2008- All Rights Reserved