El rey de la casa, Bambi Macías
by Patricia Macías
( España)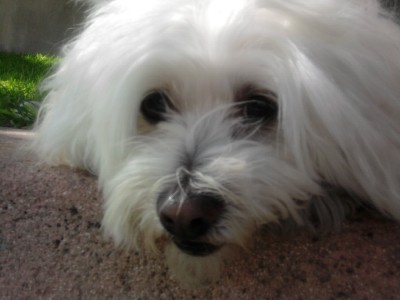 Este es Bambi, aunque ya tiene 10 añitos no me canso de decirle cada día mi pequeño, siempre lo será por muchos años que pasen.


Que su carita de angel no les engañe, tiene genio, MUCHO genio, aunque la culpa no es suya, le hemos consentido tanto que el es quien nos exige a nosotros!! A la hora de cenar, comer o cualquier hora que le entre hambre ya te está buscando y ladrandote de esa forma tan fastidiosa para que vayas a la cocina y le des comida. No comida cualquiera, su cacharro de ''bolitas'' permanece lleno mucho tiempo, el quiero algo exquisito. Pero él, es el único que sabe como mirarte para cautivarte y estar bajo sus ordenes.
Su mamá , es mi madre, el amor que siente por ella es increible... y el amor de mi madre hacia él también lo es. Este perro me lo regaló mi abuela y es como algo de ella estuviera en mi perro, eso nos consuela muchísimo.
A veces me planteo que haré cuando no esté, pero ni siquiera puedo... no hay un día, ni un sólo día que no me lo coma a besos.
Te quiero rey de la casa
Note from Gale: this is the Google translation for those of us whose Spanish is a little rusty:
The king of the house, Bambi Macias:
This is Bambi, now 10 years old but I never tire of telling about my little one each day, always will be for many years to go.
May his angel face fool you not, has genius, MUCH genius, although not their fault, we have both agreed that the one who calls us to us! At dinner time, eating or any time between hunger and he's looking and thus barking so annoying to go to the kitchen and give food. No food either, its pileup of'' balls'' remains full long time, I want something exquisite. But he is the only one who knows how to captivate watch you and be under your orders.
Her mother is my mother, the love he feels for her is incredible ... and my mother's love for him is too. This dog my grandmother gave it to me and it is like something was in my dog, that comforts us greatly.
Sometimes when I consider that I will not, but I can not even ... not a day, not a single day that I eat it with kisses.
I love King of the House