Does your dog sleep on your bed?
by Iris Miller
(Campbell,CA USA)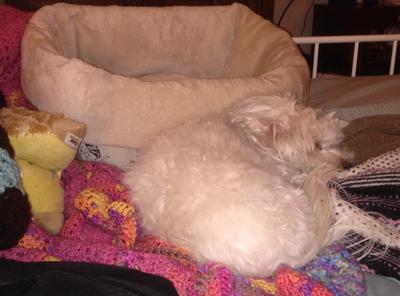 Tuffy's not my bed head warmer
Tuffy is used to sleeping with me on my bed.


I used to have a dog bed for him in the corner of the kitchen that he would snuggle in during the day, but the a neighbor brought her puppy over and it pooped in Tuffy's bed, even after cleaning and disinfecting the bed he refused to go near it. Now four years later we have moved and I bought him a cozy little bed to cuddle in. My dog is a thinker . He thinks he is getting kicked out of the big bed. And why would any dog want a little bed when he owns a big people bed?
Here is Tuffy's idea of a re purpose ( ( he made it a head rest) on my bed.
Happy Holidays
From Tuffy and mom
Copyright© 2008- All Rights Reserved