Distinguishing Coton puppies from similar breeds (ie Maltese)
by Jennifer
(Houston)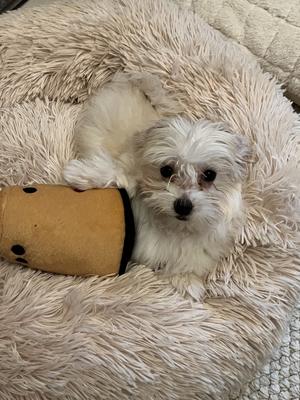 Hello everyone,


First of all, I just want to thank everyone for answering this question.
I recently brought home a puppy that I special ordered through a pet store (yes, I know, stupid mistake but long story short I'm stuck). I specified that I wanted a purebred coton as I do have allergies and spent a lot of time researching the breed. I only resorted to the pet store because I could not get any of my (state) local breeders to respond to inquiries and was hesitant about trying to find someone out of state.
As such, I am wary that the pet store may have tried to pass off a non-coton/mixed breed/similar breed dog to me. However, all the research I've tried to do hasn't really helped in distinguishing coton puppies from other breeds (all of them specify how to tell adult cotons only).
As this is my first purebred (and first coton), I am hoping you lovely people can help me try to figure out how to tell if I have a coton. My main reasoning would be to make sure I didn't get overcharged for a dog that is not purebred. The dog came with AKC registration with two AKC registered parents, but I'm not sure if and what that means in terms of confirming anything.
Are there any distinguishing characteristics I could look out for?
Pics of my new puppy in case it helps!